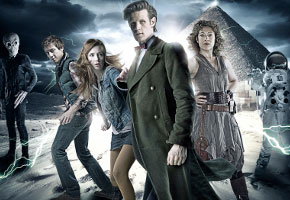 WARNING: Do not watch either of these videos if you wish to experience the full glory of the Doctor's return to our screens with a pair of totally fresh eyes, all in one go. There are things to be discovered within either of them which could potentially count as spoilers, if you are applying the term in its strictest sense.
However, if you cannot wait to find out what this Hitler business is all about, or what's next for the Doctor, Amy and Rory, well you've come to the right place.
And here's another bit, one which probably creates more questions than it solves:
And if that's simply not enough, might I suggest a long bath and some warm milk?
Oh no wait! Head over to the Doctor Who website to hear Karen Gillan offer a few tantalising hints as to what's in store for Amy and Rory.
Did you watch? What do you think? Tell us here:
Read More
Filed Under: