You can't truly celebrate British culture without paying respects to that trio of audacious autophiles Jeremy Clarkson, James May, and Richard Hammond. With Doctor Who's Days laying claim to Tuesdays on Anglophenia, we're handing Thursday to another BBC behemoth, Top Gear. It's our weekly catalog of the best bits and bobs from the UK's biggest motoring show. With a new season premiering Monday, August 22, there's going to be loads of material to cover. But…on to this week's post: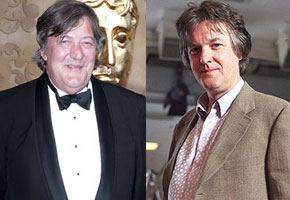 Stephen Fry, one of Britain's most erudite pop culture icons, shares a lot in common with the professorial James May. They are both legendary raconteurs with insatiable appetites for knowledge. They both possess wits that snap like rubber bands. And with their matching shaggy mops, they even sort of physically resemble each other, so much so that Mr. Fry has been regularly mistaken for the Top Gear presenter while filming The Hobbit in New Zealand.
From the set of the Peter Jackson epic, Fry tweeted: "Morning all. Screen testing of wigs costumes etc today. The sooner I get my hair (cut) the better. Half [of] NZ convinced I'm James May."
"If I deny being James May, then am I Jeremy Clarkson?
"I say neither 'but you're on Top Gear?' 'Well I've been on Top Gear'… Aah."
Why yes, Mr. Fry has indeed been on Top Gear. Here he is, back in Season 3. For the James May comparison to really take flight, Mr. Fry is going to have to buy more colorful shirts:
• Scout's honor: Both Fry and May have earned badges in celebration of the Scout Association's 104th birthday. Fry received the IT badge for his massive and loyal Twitter following, while May won the Navigator badge, for obvious reasons. (Belfast Telegraph)
• BBC America has announced that it has greenlit a new series with Richard Hammond and is developing a U.S. version of the UK hit James May's Man Lab. Hamster's new show has a working title of Hard Drive with Richard Hammond and will find the Top Gear presenter "traveling the U.S. and competing with local experts driving some of America's toughest and most extraordinary vehicles."
Meanwhile, the American version of James May's Man Lab in development would feature May in the U.S. with "an American sidekick in order to help his transatlantic brethren rediscover and relearn the skills that define what 'being a man' is all about."
Here's just a taste of what James May gets up to on the British Man Lab:
• For a recent episode of Man Lab, May transformed a regular mountain bike into a Swiss army bike (!), "complete with window-cleaning attachments, saw sharpening grinding wheels under the saddle, screwdrivers jammed into the handlebars and, of course, a front-mounted dynamo-powered blender." (Hunts Post)
• BBC America will be counting down the top 45 Top Gear challenges ever, and they are giving fans the opportunity to determine the list. Choose and rank your top 10 picks from the nominees here. The countdown will start with numbers 45 through 41 right here on BBCAmerica.com and will continue when executive producer Andy Wilman reveals your top 40 selections on BBC America this fall.
• Jalopnik writer Ray Wert recently did a lap around the UK test track with the Stig. In a Lamborghini Gallardo. There is a video. Wert has titled the piece, "How the Stig Tried to Kill Me."
Read More
Filed Under: