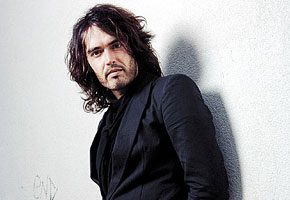 Not every celebrity reaction to the riots, which have been taking place across British cities over much of the past week, has been worth reading.
While a lot of people have expressed dismay at the destruction, and the dance producer Calvin Harris called for celebrities to use their influence to try and mentor the rioters into stopping the looting (an idea which works in theory, but is laughably egotistical in reality), there have been a lot of hot-headed rants against the idea that the riots have been caused by poverty, including the magician Paul Daniels, who is clearly still sore after being beaten up by Sooty.
So thank heavens then for Russell Brand, who has at least made a decent stab at seeing the bigger picture, while not ignoring the brutal reality.
In a blog post entitled 'Big Brother Isn't Watching You', Russell takes the time to pre-empt any criticism that he's in far too priviledge a position to comment on the riots, saying, "I can't, from my ivory tower in the Hollywood Hills, compete with the understandable yet futile rhetoric, describing the rioters as mindless. Nor do I want to dwell on the sadness of our beautiful cities being tarnished and people's shops and livelihoods, sometimes generations old, being immolated.
"The tragic and inevitable deaths ought be left for eulogies and grieving. Tariq Jahal [the father of one of three men who were killed by a car during the Birmingham riots] has spoken so eloquently from his position of painful proximity, with such compassion that nearly all else is redundant."
And, discussing the frenzied attempts by politicians and the media to get to the core reason as to why the riots are happening, he said: "I've heard Theresa May [Home Secretary] and the Old Etonians whose hols have been curtailed (many would say they're the real victims) saying the behaviour is 'unjustifiable' and 'unacceptable.' Wow! Thanks guys! What a wonderful use of the planet's fast depleting oxygen resources, now that's been dealt with can we move onto more taxing matters like whether or not Jack The Ripper was a ladies man? And what the hell do bears get up to in those woods?
"However 'unacceptable' and 'unjustifiable' it might be, it has happened so we better accept it and whilst we can't justify it we should kick around a few neurons and work out why so many people feel utterly disconnected from the cities they live in.
"Unless on the news tomorrow it's revealed that there's been a freaky 'criminal creating' chemical leak in London AND Manchester AND Liverpool AND Birmingham that's causing young people to spontaneously and simultaneously violate their environments – in which case we can park the ol' brainboxes, stop worrying and get on with the football season, but, if as I suspect, there hasn't, we have, as Human Beings, got a few things to consider together."
Those things being 1) that putting poverty next to extreme consumerism is a bad idea: "That state of deprivation though, is of course, the condition that many of those rioting endure as their unbending reality. No education, a weakened family unit, no money and no way of getting any. JD Sports is probably easier to desecrate if you can't afford what's in there and the few poorly paid jobs there are taken.
"Amidst the bleakness of this social landscape, squinting all the while in the glare of a culture that radiates ultra-violet consumerism and infra-red celebrity. That daily, hourly, incessantly enforces the egregious, deceitful message that you are what you wear, what you drive, what you watch and what you watch it on, in livid, neon pixels. The only light in their lives comes from these luminous corporate messages. No wonder they have their f**king hoods up."
and 2) that blue collar crime is always treated differently to white collar crime: "Why am I surprised that these young people behave destructively, 'mindlessly', motivated only by self-interest? How should we describe the actions of the city bankers that brought our economy to it's knees in 2010? Altruistic? mindful? Kind?"
"But then again, they do wear suits, so they deserve to be bailed out, perhaps that's why not one of them has been imprisoned. And they got away with a lot more than a few f***ing pairs of trainers."
And for a finale 3) that community is all-encompassing, right up to government level: "If we don't want our young people to tear apart our communities then don't let people in power tear apart the values that hold our communities together."
But don't just take my slant on it, read the whole thing yourself.
If the riots carry one lesson it's that ignoring people's feelings, even when you don't agree with them, is counterproductive.
Should celebrities speak up on issues such as these? Tell us here:
Read More
Filed Under: