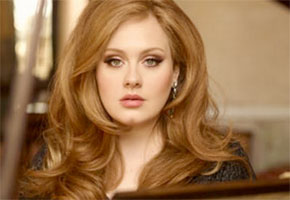 • Take That's Gary Barlow says he's "sick" of Adele. Well, he has a good reason to be. He's a new judge of the British X Factor, and he's had to endure many wobbly renditions of the British songbird's hits. He told BBC Radio 1 host Chris Moyles: "This year has been all Adele. We're sick of Adele.
"She came to one of the [Take That concerts] and I said to her, 'I've got to be honest, I'm really sick of your album because it's all that's been played at X Factor.'
"But she completely understood. And Lady GaGa, we've really had enough of them two." (The Sun)
• Adele will be performing on Sunday's (August 28) MTV Video Music Awards, where she's nominated for seven moon men. But she's not the only reason for Anglophiles to watch: the ceremony will include a tribute to the late Amy Winehouse, Singing legend Tony Bennett, who collaborated with the "Rehab" singer before her death last month, will introduce the tribute. As BBC News reports, "The segment will include footage of the pair recording jazz track 'Body and Soul' at the Abbey Road Studios in March."
• Ms. Winehouse has done a good deed in death: her 2006 masterpiece Back to Black is now the biggest-selling British album of the 21st century, knocking James Blunt similarly named but far less accomplished Back to Bedlam off the top spot. (BBC News)
• British actor/comedian/polymath Stephen Fry, a huge Apple aficionado, has paid tribute to his friend Steve Jobs, the visionary CEO who announced his resignation yesterday. "I don't think there is a human being on this planet who has been as influential in the last 30 years on the way culture has developed." Listen to his impassioned, eloquent six-minute audio message to BBC News.
• In legal news, original member Mutya Buena has won the rights to use the name Sugababes, but there's a catch. "It appears Buena now only owns the Sugababes rights to paper, cardboard and goods," reports NME, "namely stationery, paper gift wrap and paper gift wrapping ribbons."
• Is Blur's first album, Leisure — the one Damon Albarn calls "awful" — underrated? The Quietus's Jim Keoghan thinks so. "Leisure might be derivative but Blur are still on fine form, taking the baggy and shoegaze influences and producing something greater than the sum of its parts. This is an album that deserves a revaluation — it's high-time that the gentle listeners out there started to see the pleasure in Leisure."
Well, and the 1991 album does contain one of the band's best singles ever:
• Speaking of reappraisals, The Guardian's Bob Stanley wants one for the Elton John-esque, Irish-born singer-songwriter Gilbert O'Sullivan, whose utterly depressing 1972 hit "Alone Again (Naturally)," spent six weeks at No. 1 in the U.S.
• Decisions, decisions: the very in-demand Christian Bale is considering quite a few high-profile roles, reports Variety. He could play the bad guy in Spike Lee's remake of the South Korean thriller Oldboy. He's also looking at Clint Eastwood's A Star is Born remake, starring Beyoncé, alongside films from Darren Aronofsky, Michael Mann, and Terence Malick. The latest Batman flick, The Dark Knight Rises, wraps shooting in November.
Read More
Filed Under: