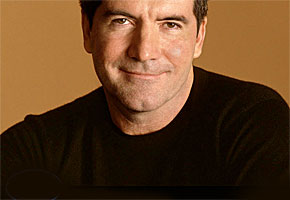 • Anglophenians, you've been with us for the planning and endless speculation, so for the sake of closure at least, you'll be pleased to know that the X Factor started on Saturday night and it wasn't a terrible flop without Simon Cowell or Cheryl Cole on the panel. And you know who says so? Simon Cowell.
He told the publicist Max Clifford: "The new judging team are doing a brilliant job and the show feels even better this year.
"I want it to be ever more successful – but there is a side of me that wants to be missed." (via Digital Spy)
• Of course, I know what you're thinking, you're thinking eventually we all have to face what will happen when we are no longer around. And of course, the question is, if Simon isn't around any more, who will be there to judge our great-great-grandchildren's talent? How will the young people of the distant future know if they really have what it takes to go all the way, to give 150% effort, to put everything into a performance, simply in order to please a haughty man with a helicopter landing pad head?
Thankfully Simon has come up with the answer to that too. He's going to freeze himself. Not now, while he's still fit and relatively young, but at the point of death, so that his reanimated old body can be of use to future generations.
He told GQ: "It's an insurance policy. If it doesn't work, it doesn't work. But if it does work, I'll be happy. If it's possible – and I think it will be – why not have a second crack? Does that sound crazy?
Yes. Oh wait, he's not done: "I think it's a good idea. I have a feeling that if I don't do it, I could regret it in 300 years." (via Femalefirst)
Here's what else is going on, right here on planet Nowadays:
• According to The Sun, the citizens of Richmond, a leafy suburb of London could well end up with Brad Pitt and Angeline Jolie as neighbors. Apparently they're house-hunting in the area. Didn't we always say they had taste?
• Good news! David Tennant is happy to consider appearing in any sequels to Fright Night, should they be on the cards. At least, I think that's what he said.
He told BBC Radio 2: "I imagine, and again I'm new to all this, but I imagine it depends on how our opening weekend goes. I can't speak for everyone else, I don't know if I'm meant to divulge that information, it's like top secret, there were clauses yes. I'll still be there at 75, hopefully keeping my shirt on by then." (via STV)
• Gary Numan doesn't understand how futuristic electropop became retro: "Some people seem to want to keep reinventing the late '70s and early '80s and I don't get that at all. It's been done quite well already so let's keep trying to move forward." (via Tourdates)
• Here's a thing: Cheryl Cole seems to spend a lot of time telling people that she wants to quit showbusiness, because she's tired of being stuck in a hotel room all the time. Who wants to bet she doesn't go through with it until showbusiness quits her? (via STV)
• If you've been reading press reports about Bono from U2 being taken to hospital with chest pains, his people say he's fine, there were no chest pains, and it was just a routine health check. (via Yahoo)
• Sad news over the weekend for anyone who's ever had the joy of seeing the Red Arrows formation flying team blaze across the skies. Jon Egging, the pilot of Red 4, died when his plane crashed after a display at Bournemouth, Dorset on Saturday. (via BBC News)
• Is anyone else slightly addicted to Daniel Craig's flinty Cowboys and Aliens interviews? He's very good at throwing innocent questions back at his interviewer like they're a little bit dim, which is always a delight. In the interview quoted in the Huffington Post today, he was first asked about the loving close-ups leading men tend to get.
"I wasn't operating the camera – you'd have to ask the cameraman about that. I genuinely don't think about it. It is what it is. I try to get in shape for the movies because I like it, and because I thought we should have a skinny cowboy who looked in shape because he should look like a killer."
Oh. Oh right. How about all of those action scenes eh? Amazing, huh?
"A lot of what you see is my brilliant double and stuntmen. We also had a bunch of wranglers and cowboys who helped me look good in the saddle."
Ah. I see. Well, nice to chat…must be off now…
Read More
Filed Under: