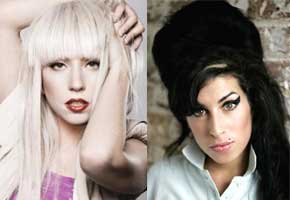 Let's begin with a story which, while it may contain a kernel of truth, is coated in so much nonsense you'd be hard pushed to find it.
The Daily Star is reporting that there is an Amy Winehouse movie on the way, which means that people are already planning to recreate the rise and fall of this wonderful singer, less than a month after she died. And the person who they claim will play her is… (drum roll)… Lady Gaga.
Which may or may not be true, but the quote they have from an unnamed "Hollywood insider" is definitely made-up: "Lady Gaga worshipped Amy and would love nothing more than to transform herself into her idol on the big screen. She'd be spot on performing Amy's songs and has got the right look and bolshy attitude."
"Spot on"? "Bolshy"? Since when was Hollywood a suburb of London?
• Meanwhile, Green Day has penned a tribute to the late Back to Black singer, titled simply "Amy." Listen below. (found via NME)
http://www.youtube.com/watch?v=Ffr4u9hDkuo
• Banksy has been commissioned to provide street art as part of a recruitment drive for the New Zealand police. Let's hope none of them end up arresting street artists, that would be confusing. (via Orange)
• Paul Epworth, the producer of the second Florence and the Machine album, has revealed that it's all done and ready to go. He told his Twitter followers: "It's a weird record that sounds live in ways and like a machine in others, with sensitivity and power from both the music and Flo's voice."
• As of yesterday, Black Sabbath has reformed once again, with all four original members and a tour and possible new album in the pipeline. (via Musicradar)
• The nominations are in for this year's Urban Music Awards, and as you'd probably expect, Adele is very well represented. The ceremony takes place in London on September 14, and Adele is up for the Best Female Artist and Best Album gongs.
Also nominated are Jessie J and Example, who are up for four awards each, but rapper Wretch 32 is way ahead of the pack, having been nominated six times. (via Metro)
• The Wire's Dominic West, star of BBC America's The Hour premiering tomorrow (August 17), has a quite candid interview with Vulture. He discusses collaborating with Enimem, and he's pretty frank about his distaste for a certain news mogul and a certain CNN news anchor. "I've always loathed [Rupert] Murdoch and all his influence. I think he's a brilliant man and he's possibly being unfairly treated — I don't think newspapers are alone in this phone hacking — but people, especially the politicians, are delighted to be bringing him down, and I have to say I don't feel much sympathy for him. If Piers Morgan goes down as well, then my day would be complete."
• Some of the cast of The Inbetweeners are taking sides against the rioters in Britain. James Buckley told Sky News, "I don't think these people represent British youth. These are just kids who are up to no good." Speaking at the premiere of The Inbetweeners movie, Blake Harrison said, "Me and my younger brother grew up similarly to a lot of the people who took part in some of these riots and we would never dream of taking part in something like that."
• It's not just the royals and celebrities who get slammed for their fashion sense, or lack of it. Now, it's Prime Minister David Cameron who's being called on the carpet — and it's not the red one, either. Patricia Field, costume designer for Sex in the City, says Cameron's put on too much weight. "He used to be, you know, good-looking; he looks fat now," she told The Independent.
And she didn't stop there. "He must have put on about 40, 50 pounds, that guy," she said. "He looks a mess! And that is not good because he's supposed to be an example for people. He's just globbing up food: he's gotten so fat, it's really bad."
• We've always thought Brangelina are crazy, but their latest escapade is simply loco-motion. The couple hired out — not just a cabin, or even a full car — but a whole train for a five-hour ride from London to Glasgow, where Brad Pitt is filming World War Z. A representative of the train company wouldn't tell The Daily Mail how much the charter cost.
Read More
Filed Under: