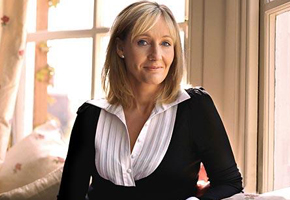 If you've ever watched the celebrity genealogy program Who Do You Think You Are, you'll be well aware that the stars often suddenly find themselves overcome by the parallels between their own lives and those of the people further up their family tree. As a result, tears are never too far away.
So when JK Rowling agreed to appear on the show, she must've known what she was letting herself in for. What she possibly didn't realise was that some of hand-me-down stories within her family would be directly challenged.
Not least the tale of Louis Volant, her great-grandfather on her mother's side and veteran of World War I, who they had always assumed was the same Louis Volant who won the Legion d'honneur for his actions during the Battle of Verdun. Apparently this is not the case, although her great-grandfather Louis did fight for France at the time.
She told Radio Times: "There were a lot of big surprises, some wonderful, and one rather upsetting.
"However, I went into the program wanting the truth, no matter what it was, because I knew so little about my French ancestry, and I don't regret a moment of it. I loved the whole experience."
And there was another parallel which rather surprised her, especially given how much of a theme genealogy plays in the Harry Potter books, where orphaned Harry is often reminded of the extent to which he resembles one or other of his parents.
"What I'm very struck by is how many single mothers I'm descended from in this line of the family. There's a definite parallel here.
"Twenty years ago, I was teaching and writing in my spare time and was very skint (poor). And then not long after that, I became a single mum, so I feel the connection. There was a point where I really felt I had 'penniless divorcee lone parent' tattooed on my head."
So that's where the lightning scar idea came from…

What unusual tangles does your family tree contain? Tell us here:
Read More
Filed Under: