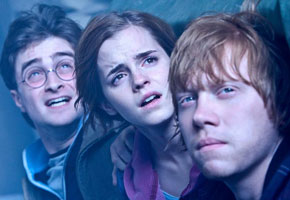 While it already brought in an astonishing $476 million (£292.7 million) worldwide during its opening weekend last month, part two of Harry Potter and the Deathly Hallows is apparently still raking in the dough.
According to BBC News, Warner Bros. has revealed that the last installment of the beloved film franchise has tallied $1 billion (£609 million) at the worldwide box office so far. And it's only a matter of time until it ousts Pirates of the Caribbean: On Stranger Tides from the lead spot to be crowned 2011's top grossing movie.
In other Deathly Hallows news, Tom Felton recently told MTV that the film's forthcoming DVD edition promises to be chock full of all kinds of extra special goodies.
"There are documentaries and us doing all sorts of [things on set]," he said. "You saw us playing golf last time. There was all sorts of crazy stuff. They were trying to compose this mega-edition."
That's it? Tom, dude, you're killing us with this "mega-edition" information. Please don't leave us hanging like that. But hey, at least there's a couple of Pottermore updates circling around the web today. While we know that the site won't be officially ready to go until October, some incredibly lucky devotees (um, a million, we should say) will be able to check out "a beta version" in the next few weeks. If you want in on that, one must get in on "The Magical Quill" competition, which kicked off Sunday (July 31).
Read More
Filed Under: