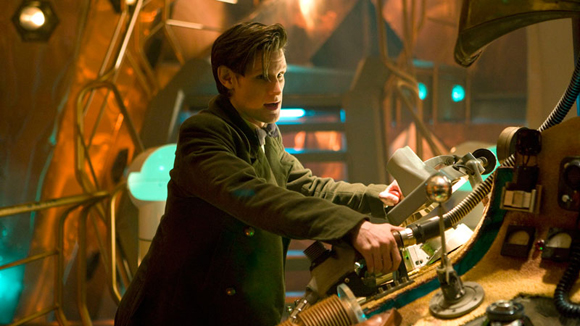 It's only been two-and-a-half months since "A Good Man Goes to War" left us in delicious suspense for the latter half of the season. Well, that aching wait is finally over: the midseason premiere, "Let's Kill Hitler," hits BBC America this Saturday (at 9/8c, natch), and the web is bracing itself for Steven Moffat's next big Houdini act.
Major props to Digital Spy, who have done an absolutely epic interview with Matt Smith, one of the best we've seen with him. (You may want to avoid it if you are particularly sensitive to anything resembling a spoiler, but here it is.) He not only teases this week's premiere, but he gives us some scoop on the rest of the season AND talks about the upcoming Christmas special.
In regards to the special, he says, "I know what it's about. It's a bit crappy because I can't tell you anything, but I went for dinner with Steven and he told me the first two episodes of next season and I nearly fell off my chair. Honestly, it's so brilliant, it's such a clever idea that I was like, 'Well…' But we talked a lot about the special then. I love the Christmas special – it's one of my favorite ones to make. It's got a clever idea. I don't know where he gets it."
• Here's a full two-minute sneak peek at the upcoming episodes of Doctor Who, featuring interview clips with Matt, Karen Gillan, and the Moff himself. Plus, you'll see snippets of a minotaur, River Song in an eyepatch, and a few very familiar monsters we haven't seen in a little while. If that doesn't get your heart rate elevated, seek immediate medical attention.
• Ahead of this Saturday's premiere, Moffat chatted with The Daily Beast. Sounds like "Let's Kill Hitler" is going to be a doozy.
"It's an absolute cracker… I can't tease but I can give you some promises. Answers will be given. We're not playing at really being Lost. You will know what's really going on on that beach, you will know the truth about River Song, which you don't know yet… It's pretty much answer, answer, answer in a way… But by the end of episode 13, new things will have begun… The great thing about the River Song conundrum is that every time you get an answer, it makes you ask another question."
• Don't miss the exclusive world premiere of the Doctor Who Motion Comic, which will be shown EXCLUSIVELY as a "bridging scene" in between commercials during the premiere of "Let's Kill Hitler," on Saturday ONLY on BBC America. Here's a screengrab:
For more photos, visit the BBC America Facebook gallery.
• Congrats as in order for Doctor Who, which won its fifth Hugo Award for excellence in science fiction and fantasy. The Season Five two-part finale, "The Pandorica Opens" and "The Big Bang," picked up the prize for Best Dramatic Presentation, Short Form, according to Digital Spy. "Vincent and the Doctor" and the 2010 Christmas special, "A Christmas Carol," had also been nominated in that category. DW is in good company; the mega-hit Inception won the Long Form award.
• Karen Gillan says that working with Little Britain star/creator David Walliams was "an amusing challenge." They are set to appear in Toby Whithouse's episode, "The God Complex."
"He is so funny," she said. "It's hard working with David Walliams because he is constantly making you laugh." (Radio 1)
• Matt and Karen have teased that they want to do Macbeth together, and former Who star David Tennant did Hamlet while shooting the series. (Tennant also recently did Much Ado About Nothing with Catherine Tate.)
Smith suggests that Shakespeare is not much of a stretch from Doctor Who: "I think the essence of the character is always there and has always been there," Smith said. "Fundamentally, he is a good man. Fundamentally, he is very brave.
"But it's like playing Hamlet. There are fundamentals to Hamlet, but every actor has to re-invent it.
"And that's the key, you have to be brave with your interpretation of the doctor, much like you have with the companion (currently Amy Pond, played by Karen Gillan). They have to be brave choices." (Toronto Sun)
• Speaking of the Tenth Doctor, Tennant has made it to the Final Four of Anglophenia's hunk-tastic Fan Favorites Poll. Cast your vote now!
• This week's Companion was Donna Noble, the stroppy madam who gave everything, saved the universe and received precisely nothing in return. Read the full appreciation here (you'll need tissues).
• Meanwhile, over at Den of Geek, they've been celebrating the Eighth Doctor, as played by Paul McGann.
• They also have a selection of new pics taken from the second half of season 6. Nothing too spoilery though.
• There are some over at Digital Spy too.
• Is Matt Smith only hanging around on Doctor Who for a couple more years? That's the impression he appears to have given a Radio Times interviewer, who was asking about his future career.
He began his answer with a curiously definite air: "When I finish, I'll be…" and then, as if suddenly realizing what's he's saying, changes direction: "Well, I don't know how old I'll be, but by the end of next year I'll be 29 so…"
Read More
Filed Under: