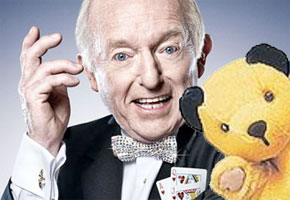 For over 50 years, the children's TV character Sooty, a mischievous yellow puppet bear with black ears whose voice can only be heard by his human handlers, has created fun chaos on British TV (you may remember a while ago we showed you a clip of Doctor Who's Arthur Darvill making an early appearance on his show).
But until now, he's always appeared to be naughty but not downright evil. Until now.
About a month ago, the magician Paul Daniels, a much-loved figure in British TV, was making a special guest appearance on The Sooty Show, and had to film a segment in which he gets hit in the face by a slice of pizza.
They tried it once, and it was OK, but Paul clearly felt that the moment of pizza impact could be improved, possibly by Sooty (or more correctly, his puppeteer Richard Cadell) throwing the pizza extra hard.
(Apologies if you have no idea who any of these characters are. If it helps, try to imagine this is a story about Bert from Sesame Street hitting David Copperfield in the face with a flying haggis. That should turn everything the right way up again.)
Thankfully, Paul suffered nothing worse than a black eye, which is still serious for a 73 year old, but not the end of the world. His agent, Chris Davis, told the Sun: "It damaged his eye. We had to go to hospital and cancelled a gig, but he's made a full recovery."
And being the showbiz trouper he is, Paul graciously allowed them to use the footage in which the pizza does all the damage.
What's extra interesting is that the story has only just appeared, a month after the event, and Paul himself is now annoyed because it sounds like he's in hospital when he's about to appear on stage. So he took to Sky News to prove that he no longer has the black eye.
He said: "That was over a month ago, I wasn't hospitalised, I got pizza in my eye. It stung.
So on the way home I stopped off at a wonderful village hospital and the nurse said, 'Oh no, this will sting a minute', put a drop in and it was all over. It did sting for a minute and then it was gone.
The worse thing is that they've said Paul Daniels is in hospital. I am not. I am about to open at the Edinburgh Fringe this afternoon. I'm fine. I don't even know what this is really about other than there's no other news for The Sun journalists."
OR that Sooty is a wrong 'un, and that he is even now sharpening pizza slices in his torture dungeon.
Which children's TV character do you suspect of genuine evil intent? Tell us here:
Read More
Filed Under: