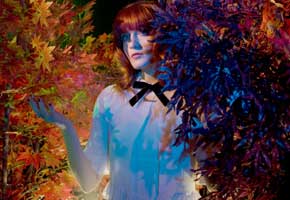 Florence fans, your (not actually all that) long wait for new material is nearly at an end. Album number two is on the way, and hopefully before the end of the year.
The producer Paul Epworth, who also did the knob-twiddling for Adele's world-conquering "21" has been explaining that they took their time working on the follow-up to 2009's ethereal barnstormer "Lungs", and that this time around, it's not going to be quite as twinkly a ride.
He told BBC 6 Music: "I can't wait for people to hear what we've been working on. At the moment I feel like the record will have a more stripped feel but it has a heavy rhythmic side to it. It's a little less indie and a little bit more soulful."
See, the very last word I'd have used to describe the first Florence and the Machine album is indie, nor would I have said it's lacking in soul, come to that. This can only be good news.
Paul explained that working with Florence has been a pleasure, but they've had to focus, hard: "She's amazing. She's worked really really hard to create such a big body of work, we've whittled a long list of songs to about sixteen. I just can't wait to get it done. The record will probably be finished by the end of July."
So that's what, a September release date? Let's hope so.
Here's Florence's last British single. "Heavy In Your Arms"
What two words would you use to describe FloMash? Tell us here.
Read More
Filed Under: