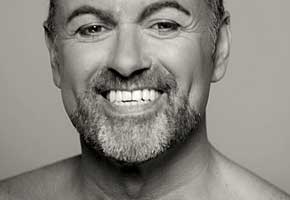 Forgive us, patient Anglophenian, for constantly quacking on about George Michael's Twitter feed. We know as well as you do that anyone who wishes to keep up with the great man's thoughts can just follow him themselves. It's just he's been doing a lot of very interesting things recently, some of which deserve a wider platform (and no, we're not talking about that New Order song).
Quite apart from releasing his cover version of Stevie Wonder's "You and I" as a charitable gift for Prince William and Kate Middleton's wedding, he has also been explaining, in response to a question from a twit-fan, why he is no longer friends with Stephen Fry. Yes, THAT Stephen Fry.
It seems the two men had struck up quite a friendship a while ago, to such an extent that he was happy to be involved in a TV documentary Stephen was filming about HIV and AIDS, entitled Stephen Fry: HIV And Me. Now if you've seen the film, you'll remember that George isn't in the final cut, and the reason for this lies in a public comment the documentary's producer, Ross Wilson, made, claiming that George had refused to take HIV tests for three years because he was too worried that he might be positive.
As a result, George asked for his interview to be taken out, and hasn't really spoken to Stephen since.
George explained: "Stephen did nothing directly, but his producer said something publicly that was such a dreadful lie I thought about legal action. And I was shocked that, given the nature of our friendship until then, Stephen never called me to explain or distance himself from the liar."
"I was just terribly hurt that yet another gay man seemed happy to let me hang out to dry for the entertainment of homophobes. Having said that, I still think Stephen is a lovely man and a huge talent."
Is Twitter the future for all celebrity arguments? Tell us here.
Read More
Filed Under: