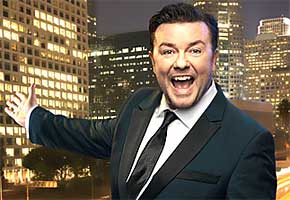 It's hard to find the right word to encapsulate the worldview of Ricky Gervais, isn't it? Cynic? Aggressive agnostic? Humbug? He's certainly very good at puncturing bubbles of self-delusion, but does that make him a realist or a smart-arse… Or both?
In a recent interview (via Contactmusic), Ricky explained that he had no intention on appearing on the BBC's genealogy documentary Who Do You Think You Are, even though his family tree does disappear off into some strange places. And the reason is, he can't see what good it would do.
He said: "I was invited to do it (the show) a few times… in England and it [always] turns out to be someone on there who suddenly finds out their great, great grandmother was a prostitute or something and they start crying. What you crying for? You didn't know her! Who cares?!"
(A thought which is eerily similar to one he expressed (albeit more swearily) a year ago, in an interview in the Times.)
He went on to rationalize that you are unlikely to come across anyone amazing in your past as a surprise, because you would already know that they're there. Dark family secrets on the other hand, tend to remain secret.
He went on: "My friend Karl Pilkington… says he'll never do it because if you have an Einstein in the family, everyone will be talking about it, so you're gonna find out your great, great grandfather was a murderer or a rapist or something, so just don't go there! It's probably bad!"
Or, and this would be really awful…what if your family weren't interesting or famous? Can you imagine the horror?
Would you do Who Do You Think You Are? Tell us here.
Read More
Filed Under: