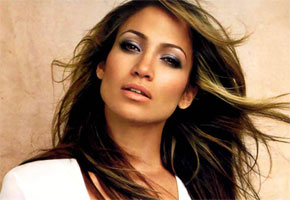 This week's chart is all about the changing seasons; huge clumps of songs are making a slow descent away from the top spot, defeated and sad, while a few lucky exceptions are salmon-leaping against the flow, all sparkly and glistening.
That's not even poetic license on our part, particularly. The glittery Jennifer Lopez has re-appeared from out of nowhere and rudely shoved dour Adele from the top spot with "On the Floor," her third UK No. 1, and a song which proves that the fad for writing club bangers about clubbing, to be played in clubs, is showing no signs of flagging. Oh and she brought Pitbull with her, which is nice.
LMFAO are hammering the point home at No. 3 with their "Party Rock Anthem," another indication that the UK's springtime sunshine has had a markedly uplifting effect on everyone's spirits. It's an out-with-the-old chart, an in-with-the-new chart. We're basically spring-cleaning all those sweatery winter songs away, and getting ready for a T-shirt summer.
Take Katy B, for example, who seems to be bringing a bit of winter with her wherever she goes. No matter how delightfully perky the beat, no matter how slamming the bass, she always sounds like someone caught between ecstasy and melancholy, and that is why her song "Broken Record" (a new entry at No. 8) captures the true spirit of the times. Nothing else captures that "sweaters or T-shirts?" dilemma quite as well.
Here's the video:
Some older songs are getting a bit of a bump too, surprisingly. Katy Perry and Kanye West's "E.T." has popped up 17 places to No. 12, and Cee-Lo Green's "Bright Lights, Bigger City" has yomped up 12 places to No. 19. These must be the equivalent of a much-loved old T-shirt that got buried under winter sweaters while the weather was cold. Now it's time to bring it out and give it another airing.
Either that or people just really like those songs…it's not a perfect analogy.
For the rest of this week's chart, Radio 1 has the full rundown.
Which songs would you happily pack away until next winter? Tell us here.
Read More
Filed Under: