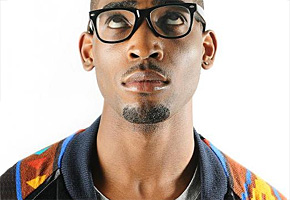 Time for a delicate question: do you enjoy listening to music when you are making out? And if so, do you sometimes worry that the person you are making out with may be judging you based on your musical choice?
If so, you have to feel for UK rap star Tinie Tempah, who was, ah. entertaining company recently, and decided to whack on some tunes, only to find, some minutes later, that they were listening one of his own songs.
Passion killer? Oh you betcha!
He told the Sun: "I was having an intimate moment with a lady friend and I'd put the iPod on shuffle. It's a nice mix of different types of music, some fast and some slow. It works well for the situation."
We know exactly what you mean. That segue from "Raining Blood" by Slayer into "Suzanne" by Leonard Cohen…well it's swoony.
He continued: "But suddenly 'Wifey' comes on. And the lady is looking at me like, 'Did you plan this to happen? Is this something that turns you on more?' I could see it in her eyes that this moment was awkward for me and a turn-off for her."
"I was reaching out trying to change tracks but we were kind of entwined so in the end I just to decided to let it play on and we continued."
"It was only three minutes of a 20-hour session…joking on that last bit."
He then spent the rest of the time worrying what tune would play next.
Tinie said: "I was thinking, 'Oh no, one of my favorite Dolly Parton tracks, 'Here You Come Again', is on there' and I again thought she'll think that I've planned it."
Why? Are you secretly Dolly as well?
What's your least useful bedroom song? Tell us here.
Read More
Filed Under: