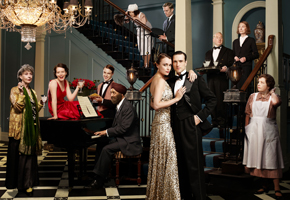 What's British on U.S. television this week? The fourth season of Secret Diary of a Call Girl debuts, the third season of Being Human comes to a shocking conclusion, Dame Helen Mirren follows up Sir Elton John's SNL appearance, and Upstairs, Downstairs is resurrected for Masterpiece Classic. All times are in EST and are subject to change.
Monday, April 4
With one movie out last week (Hop) and another set to launch this week (Arthur), British comedian Russell Brand continues on that bullet train towards overexposure, offering up an appearance on Conan.
Tuesday, April 5
Duran Duran pops up on Ellen today.
Ahead of a brand-new season of Jamie Oliver's Food Revolution on ABC, celebrity chef Jamie Oliver takes on David Letterman tonight.
Wednesday, April 6
Love Actually, the equally beloved and abhorred all-star romantic comedy from 2003, is airing tonight at 10 on Lifetime Movie Network.

Thursday, April 7
This is an absolutely massive night for the Britophiles: former Doctor Who star Billie Piper's back with a fourth season of Secret Diary of Call Girl, premiering tonight at 10:30 pm on Showtime. Belle's best friend Ben has put everything on the line for her, but can she maintain her life as high-end escort while embarking on a "monogamous" relationship?
The late-night lineup is simply jam-packed with across-the-pond talent: Jeff Beck is the musical guest on Leno, while Ellie Goulding brings her elfin charm to Jimmy Kimmel. Jamie Oliver swings by The Daily Show with Jon Stewart, Camilla Luddington (a.k.a. Lifetime's Kate Middleton) joins Lopez Tonight, and British director Joe Wright (Hanna) is featured on Carson Daly.
But the biggest coup of them all? Dame Helen Mirren makes a return visit to Jimmy Fallon, just two days ahead of her Saturday Night Live hosting gig. Last time, Jimmy convinced the Oscar-winning thespian to play beer pong. Perhaps this time she'll brave a keg stand?
Friday, April 8
Russell Brand is guest co-hosting Regis and Kelly, with Trudie Styler, a.k.a.Mrs. Sting, as a guest. Expect lots of innuendo.
Kim Cattrall, the stealthiest stealth Brit of them all, is on Ellen.
Saturday, April 9
It's the season finale of BBC America's supernatural dramedy Being Human, and stakes are extremely high for Annie, Nina, George, and Mitchell. Word has it something absolutely game-changing occurs.
And yes, Dame Helen Mirren will host SNL this Saturday, following up Sir Elton John's widely panned gig. I doubt Dame Helen will need the likes of Tom Hanks to rescue her, but if the writing sucks, as it did with Sir Elton, there's little she can do.
Sunday, April 10
Following the success of Downton Abbey, Masterpiece Classic takes on the new Upstairs, Downstairs, which carries on the story from the classic '70s drama. Jean Marsh reprises her role as Rose, with Keeley Hawes and Ed Stoppard joining the cast as the new residents of 165 Eaton Place.
What will you be watching this week?

Read More
Filed Under: