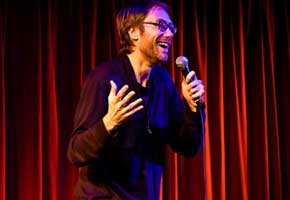 Gentlemen, it is time we discussed the etiquette of autograph hunting. Too many stories are filtering through about famous people being harassed for a signature in what can only be described as colossally inappropriate circumstances, and it is up to us to bring this odious practise to a halt.
We've already heard David Tennant's story of having paper thrust into his face while taking a shower, and now Stephen Merchant, the tall one out of Extras and Hall Pass, has an equally disturbing tale to tell.
He told FHM magazine: "I was once in the gym and a fully nude man asked me for an autograph. I was sitting down at the time, so I had to make casual chitchat while his c**k and balls were bobbing about in my face."
See? That's just wrong. How long would it really have taken for that man to put some clothes on? Surely not so long that he would struggle to spot a 6′ 7″ beanpole running for the door?
After all, as Stephen explains, he is very easy to pick out in a crowd: "When I go to music festivals, that's when I run into a Stephen-loving demographic. I like to be down at the front, so I'm quite visible and being tall doesn't help."
"It's only certain areas at certain times that can be bad – like in the centre of town on a Friday night. Then, drunken office workers are drawn to me."
So long as you're dressed, and they're dressed, Stephen, then that's fine.
Where would you draw the line at asking for an autograph? Tell us here.
Read More
Filed Under: