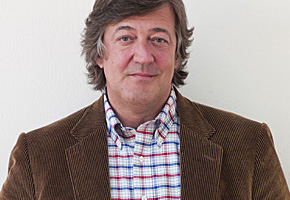 Stephen Fry is an enthusiastic man, isn't he? He is someone who loves to love things, and then tell people about the things he loves, whether those things are the music of Wagner, the people and geography of America, technology in general, literature…Mr. Fry loves them, and we know this because he has told us so.
And, according to his latest blog post, it seems a new love has entered Stephen's life: musical theatre.
Not opera, you understand, not even hoary old stage classics like West Side Story, but nowadays musicals like Legally Blonde or Avenue Q.
He explains: "There are plenty who seem to feel that musicals are a low art form, something for the ignorant masses not to be uttered in the same breath as legitimate theatre, opera or ballet."
"Many still wrinkle their noses when they consider how much of the West End is given over to cheap, tinselly shows whose appeal is chiefly to either the matronly less-educated end of the coach-party theatre going populace or to hysterically camp aficionados for whom Sondheim and Fosse are immortals and Judy and Liza and Barbra divinities."
"So what is it about musicals that has recently lit my fire, floated my boat and wowsered my trousers? We imagine that musicals are all about escape, fantasy, romance and comedy. Well, it would be absurd to deny that they don't deliver those much needed and highly prized rewards and that this surely would be reason enough to thank them. But for me as much as anything an evening at the musical theatre is a celebration of talent. It simply astonishes me, indeed often moves me to tears, how many men and women we have in this country who devote themselves body and soul to our entertainment. Eight times a week for months on end there are boys and girls out there doing things that I could never do."
"I think it is time to take the snobbery out of theatre. I am convinced that as I write the West End is in a wonderful, an almost unprecendently wonderful, condition. The balance of important new plays, classic revivals and high quality musical shows old and new is just about perfect at the moment, but it would be less of a world class theatre district, less of a significant cultural phenomenon were it not for the health and vitality of the stage musical.
And he concludes: "If you haven't recently, then – wherever you live – try and find time to "take in a show" as they used to say – I know it isn't cheap, but I think you'll find it worth every penny."
Yes, Stephen, but where you do stand on Justin Bieber? The public demand an answer!
Are you a musicals sceptic? Tell us why.
Read More
Filed Under: