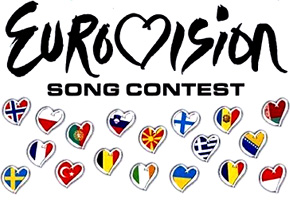 Having prepared the ground with several bewildered examinations of Eurovision's past, it's time to have a look at the runners and riders in this year's competition, which takes place on May 14.
We need to get you nice and prepared, otherwise you'll have to absorb everything at once, and that could lead to some kind of internal bleeding.
Here, then, are all 43 entries, handily jammed into on easy-to-use pop-up video player:
Eurovision Song Contest – Düsseldorf 2011 Preview Player
And if you're unsure quite where to start, we've prepared a brief reaction to each song, so you'll know what you're letting yourself in for. Just remember, the normal rules of musical enjoyment do not apply to Eurovision. Have fun!
Albania:
Aurela Gaçe – "Feel The Passion"
Evanescence play Minnie Riperton (slightly atonally).
Armenia:
Emmy – "Boom Boom"
Half Black Eyed Peas, half High School Musical, all perky.
Austria:
Nadine Beiler – "The Secret Is Love"
Barbra Streisand. And not like Duck Sauce's "Barbra Streisand" either. Quite good.
Azerbaijan:
Ell/Nikki – "Running Scared"
Snow Patrol with even more boom to their tune.
Belarus:
Anastasiya Vinnikova – "I Love Belarus"
Classic Eurovision. Partisan, preposterous, and proud of it.
Belgium:
Witloof Bay – "With Love Baby"
Remember the guy in the Police Academy films that did the sound effects? This is like his episode of Glee.
Bosnia & Herzegovina:
Dino Merlin – "Love In Rewind"
"One to a hundred, multiplied by you," sings Dino on this klezmeric footstomper. Not a math major, clearly.
Bulgaria:
Poli Genova – "Na Inat"
The Bulgarian Jordin Sparks gives us a Bulgarian "Battlefield."
Croatia:
Daria – "Celebrate"
The kind of dance music they play in Tony Robbins's private nightclub… in his mind.
Cyprus:
Christos Mylordos – "San Aggelos S'Agapisa"
A very sad and graceful acoustic lament… with churning hard rock guitars.
Denmark:
A Friend In London – "New Tomorrow"
Owl City play this hits of Good Charlotte. But good.
Estonia:
Getter Jaani – "Rockefeller Street"
A song about New York. Although there's no river of diamonds and pearls there. Is this what a nervous breakdown sounds like?
F.Y.R. Macedonia:
Vlatko Ilievski – "Rusinka"
Video doesn't work. That's not a good start.
Finland:
Paradise Oskar – "Da Da Dam"
Eurovision and onomatopoeia go together like ice and cream. And if you listen to the lyrics to this song's verses, you'll see why. Less is more, fellas.
France:
Amaury Vassili – "Sognu"
A proper operatic lament which owes a certain amount to Ravel. In any ordinary song contest, this would win hands down, as it is empirically the best sung song of them all. But this isn't an ordinary song contest.
Georgia:
Eldrine – "One More Day"
Another moody one, with a funk-rock chorus, and a guest rapper talking all over the waily bits. It won't be everyone's cup of tea.
Germany:
Lena – "Taken By A Stranger"
Rather grand. A jazzy, assured pop song which takes it's time to arrive and, crucially, does not go all apocalyptic at the end.
Greece:
Loucas Yiorkas ft. Stereo Mike – "Watch My Dance"
Remember that South African rap act Die Antwoord? Well that's Stereo Mike. His partner in song is basically there to provide even less light relief.
Hungary:
Kati Wolf – "What About My Dreams?"
More booming, more wailing, but more fun than the other boomy, waily ones.
Iceland:
Sjonni's Friends – "Coming Home"
A folky little hoedown, with a brass band, and perky harmonies. Could be a smidge saccharine for some tastes.
Ireland:
Jedward – "Lipstick"
If you don't know who Jedward are, we will explain soon. All you need to know for now is that this is all Simon Cowell's fault.
Israel:
Dana International – "Ding Dong"
She's back! A Eurovision winner already! Isn't that "Airplanes" by B.O.B.? Oh no, it's not.
Italy:
Raphael Gualazzi – "Madness Of Love"
Oh hello! Cocktail jazz anyone? Do you think he knows "It Had To Be You"?
Latvia:
Musiqq – "Angel In Disguise"
A relatively subtle version of one of those doomy, boomy songs Eurovision seems to be churning out a lot this year. Will struggle to make an impression.
Lithuania:
Evelina Sašenko – "C'est Ma Vie"
In a parallel universe, this is the heroine's heartbreak song in a quite upsetting Disney cartoon.
Malta:
Glen Vella – "One Life"
Comes across like the first draft of a Lady Gaga song.
Moldova:
Zdob si Zdub – "So Lucky"
Gogol Bordello playing Franz Ferdinand's "Do You Want To."
Norway:
Stella Mwangi – "Haba Haba"
Gospelly dance number in an American accent, with samba undertones. Doesn't exactly scream Oslo.
Poland:
Magdalena Tul – "Jestem"
The shuffle-beat undercuts the vocal melodrama rather well. Think Rachel Stevens if Rachel Stevens was, y'know, emotional.
Portugal:
Homens Da Luta – "Luta É Alegria"
Sounds (and looks) like a song about the number five from a Portugese episode of Sesame Street.
Romania:
Hotel FM – "Change"
Do we have any Mika fans in the house? Hello?
Russia:
Alexej Vorobjov – "Get You"
Could very easily be a current hit single (in the UK at least) and no-one would even blink.
San Marino:
Senit – "Stand By"
Is that you, Sheryl Crow?
Serbia:
Nina – "Caroban"
Smooth and soulful, like warm syrup on hot pancakes (if's particularly soulful syrup). The key-change is amazing.
Slovakia:
TWiiNS – "I'm Still Alive"
Easier on the eye than Jedward. Easier on the ear than Jedward. You may find yourself singing "Take A Bow" during this one though.
Slovenia:
Maja Keuc – "No One"
Another doomy lament. Europe, why so sad?
Spain:
Lucía Pérez – "Que Me Quiten Lo Bailao"
On the other hand, this goes too far in the other direction. Perky beyond all measure… and are those bagpipes?
Sweden:
Eric Saade – "Popular"
Begins like Boney M's "Rasputin," before becoming alarmingly huffy and puffy for a man singing through his nose.
Switzerland:
Anna Rossinelli – "In Love For A While"
Do you think she wants to be a billionaire, so frickin' bad?
The Netherlands:
3JS – "Never Alone"
Strident and beefy, like a Billy Joel ode to driving down a lost highway with the top down.
Turkey:
Yüksek Sadakat – "Live It Up"
A rocker! It suffers a bit from not being Bon Jovi's "You Give Love A Bad Name", but much better than another sub-Evanescence dirge.
Ukraine:
Mika Newton – "Angel"
Another moodily Glee-ish tale of love gone wrong, with a chorus that features an entirely unnecessary male voice.
United Kingdom:
Blue – "I Can"
Well, let's wait and see if you can really, shall we?
So there we have it. For the record, our tips for the top are France, Germany, Russia, Serbia, and the UK (although more through loyalty than preference).
Did you make it through all 43? Tell us here.
Read More
Filed Under: