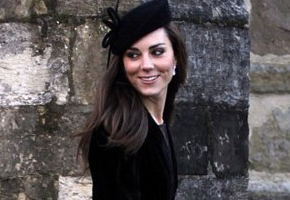 It is often overlooked that when he becomes King, William will also be Supreme Governor of the Church of England. Although the post is largely symbolic, William still appoints the Church's leadership, based on advice from the UK's prime minister. Therefore, his future wife must have proper standing in the Church. Kate was baptized, but never confirmed. Until last month, that is. Kate was confirmed March 10 at St. James's Palace by the Bishop of London, the Rt. Rev. Richard Chartres, who will give the wedding address. The Press Association reports the ceremony was attended by her family and William. Confirmation, according to the Church of England's website, "marks the point in the Christian journey where those who have been baptized as children make a firm commitment to Christian discipleship. Through prayer and the laying on of hands by a bishop, the Church also asks God to give those being confirmed power, through the Holy Spirit, to live the life of discipleship."
In other royal-related news:
• The energy expended in keeping secret the designer of the wedding dress is starting to rival that used to protect the nuclear launch codes. Now there is word that Kate has chosen more than one dress — and more than one designer. "Sources tell us that Middleton has commissioned three wedding dresses from three different designers," Fashionetc reports. "Kate has two 'backups' should the designer of her chosen wedding dress be correctly leaked, in which case she'll wear one of the others." The contenders for designer of the first-choice dress remain Bruce Oldfield and Sarah Burton. New to the list is veteran couturier Jasper Conran. In 1994 he designed the gown for Lady Sarah Chatto, the Queen's niece. Incidentally, the late Princess Diana, William's mother, announced weeks in advance her gown would be designed by Elizabeth and David Emanuel.
• Keen observers noticed a more royal-ready Kate in her last official pre-wedding public appearance. Monday (April 11), Kate and William paid a rain-soaked visit to a school and a park. Fashion mavens noticed that Kate's usual colored tights were traded for opaque stockings. Her clunky heels were "a little on the frumpy side," Camilla Ridley Day, a "celebrity stylist," told The Daily Mail. "She has come a long way from her Sloane Ranger days, characterized by knee-high, leather boots." Her smile has also had a makeover. Dr. Tif Qureshi, a cosmetic dentist, believes Kate has had some teeth straightening. "It looks as though she's had some whitening treatment and tooth edge augmentation to make her teeth all the correct length," Qureshi added. Finally, Kate may have mastered the most difficult task for anyone, royal or commoner: appearing interested in what someone is saying. "She appears much more choreographed," said "body language expert" Judi James. "She is also quite practiced at what is known as 'intense listening' where she engages in eye contact with people and makes them feel like the most important person in the world."
• Just to retain some sense of proportion, BBC News has video of an Ipswich couple who are spending less than £1,000 ($1,625) on their April 29 wedding. Admirably, Sam Wood and Danny Page refused to go into debt for their nuptials. Wedding outfits are from eBay. A social club was rented for £120 ($195). The D.J. is a friend. Family and friends are bringing food. Even though the horses' feed bill for that other wedding probably exceeds the cost of this wedding, this couple appears no less in love. "Money doesn't really matter as long as you've got exactly what you want, you know?" says Page.
• Another trailer is out for Lifetime's William and Kate movie. The Sun is not amused. "The trailer for William & Kate: The Movie portrays the pair as High School Musical-style lovebirds, trading one cheesy line after another," the paper writes.
"The dialogue could have been written by a 12-year-old, the English accents of the supporting cast are all over the place, and the set pieces are borderline laughable — not least when commoner Kate shocks Prince William with a fine shooting display on her debut day out with her lover's old man." BBCNews has video of an interview with the movie's two stars, Camilla Luddington and Nico Evers Swindell.
• If you want to make money off the royal wedding, do it the old-fashioned way. Trade stock. The Telegraph reports that some UK companies could receive a lift from the nuptials. Among the issues that could benefit from national celebrations are Greene King, a pub chain, and Diageo, maker of Guinness beer, Cragganmore single malt scotch and other liquor. Churchill China and Portmeiron, another ceramics company, could surge because of souvenir demand. "The pub, hotel and restaurant trade is likely to be the main beneficiary of increased public spending," said Manoj Ladwa of ETX Capital.
• Do you really want to slave over one of those "something blue" Betty Crocker cakes? Wouldn't it be easier, neater and more fun for your guests if you made cupcakes instead? That way, you could have a variety of royal-wedding themed decorations. Cupcakestakethecake, a blog that is a massive clearinghouse of cupcake information, has several photos of royal wedding-themed cupcakes from UK bakeries. And if you insist on a wedding cake, take a peek at the "Cupcake Wedding Cake" from Manchester's Hey Little Cupcake.
Read More
Filed Under: