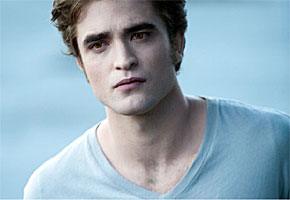 When it comes to being one of the world's biggest stars, sharing a quiet dinner with friends or a significant other can be difficult to pull off sometimes. The paparazzi are seemingly always around and a host of squealing fans are typically close by, eager to catch a glimpse of their favorite celeb.
But believe it or not, social networking outlets like Twitter might actually help a celebrity out of jam. Just ask Twilight looker Robert Pattinson.
"The only time I ever follow Twitter is if I'm in a restaurant or something, just before I leave, to see if people are waiting outside," the 24-year-old English actor explained to The Metro.
He continued: "It does make you a bit of a loser, especially when someone asks you, 'Hey, you want to go to dinner at this place?' and I'm like, 'Can we have dinner at this other place? It has three exits.'"
Oh Rob, you're no loser. I suppose using Twitter in such a way is pretty clever. But don't let the cat out of the bag, dude.
Read More
Filed Under: