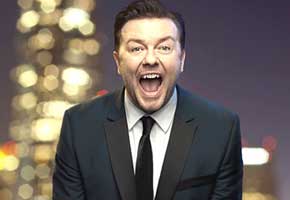 When growing up, it's pretty typical to dislike eating vegetables. When I was a kid, I couldn't stand the thought of having broccoli or squash. Now as an adult, I make sure I eat my veggies and lots of 'em. But for Ricky Gervais, he couldn't be bothered with any kind of herbaceous goodness for most of his life.
According to The Daily Star, the 49-year-old British funnyman finally gave in to vegetables after the incessant nudging of his longtime girlfriend Jane Fallon. And it looks like they've done his body good, yeah? He's looking fabulously svelte these days, as we all know.
"After Christmas 2009 I got my act together a little bit," Gervais explained. "I work out every day now and I eat my vegetables. I didn't eat vegetables at all until about 18 months ago and it used to annoy people."
He continued: "I thought vegetables were boring. Jane would give me a soup or stew and I would devour everything that was meat or gravy. But I'm learning to alter my tastes and I'm liking the experience."
Right on, Ricky! What a way to ring in your 50th year (Gervais turns the big 5-0 on June 25)!
Read More
Filed Under: