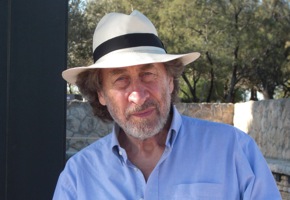 Howard Jacobson says that serious novels should be funny.
"The novel is about making you laugh," the Man Booker Prize winner told the PBS NewsHour's Jeffrey Brown on his blog Art Beat. Jacobson is currently promoting the American publication of his 1999 novel, The Mighty Walzer.
"This has often been described as the greatest ping-pong novel ever written," Jacobson said of his book. "And I bet you can't challenge that."
Jacobson said that his character's obsession with ping-pong, autobiographically based, was the perfect comic theme to approach other ideas.
"My heroic journey in ping-pong — and almost anybody's heroic journey in ping-pong — ends nowhere," he said. "It ends in obscurity. Obscurity is a very good subject for a writer. Failure is a very good subject for a writer."
And writing, he says, is actually a lot like ping-pong.
"It's you locked away in a little room," Jacobson said. "No one's watching, no one cares, you are on your hands and knees scrabbling for the little plastic ball most of the time. It's keeps things in perspective. And it sharpens the edge of your sense of the ridiculous."
Yet for Jacobson, comedy is a very serious business.
"My argument for comedy has always been that is not about reducing the thing," he said. "Comedy actually can make a thing feel very big. You can take a person on a comic journey into the heart of darkness, you can take people on a comic journey where they would not otherwise go."
"Comedy and seriousness are friends; they're not enemies," said Jacobson, also the author of The Finkler Question (for which he won the Booker prize), No More Mr. Nice Guy, and Coming From Behind.
Mixed with his own comedic approach is his Jewish outlook, which, he says, has traditionally been more foreign to British than to American audiences.
"You get it," he said, referring to Americans, used to reading Philip Roth and Saul Bellow, for example. "In England, that was verboten."
"English culture," Jacobson continued, "was much more sealed to outside voices than in American culture, which is so welcoming to a disparity of voices, which is why people have said for a long time the American novel is alive in the way that the English novel is not alive."
You can read a complete transcript of Jacobson's interview with PBS's Jeffrey Brown here, and you can watch it here:
How important is humor in fiction?
Read More
Filed Under: