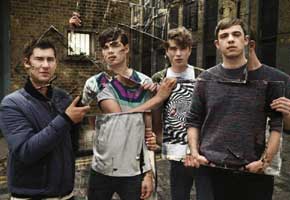 • BBC News reports that nominees for the 2011 Ivor Novello Awards have been announced.
Anglophenia favorite Everything Everything will face off against Foals and Villagers in the Best Song category with their ultra-infectious synth number "My Kz, Ur Bf." The Manchester-based indie pop outfit will also vie for the Best Album trophy versus Bombay Bicycle Club and English MC Plan B (a.k.a. Benjamin Drew). In the Most Performed Song class, Mr. Drew's name comes up again for his best-selling single, "She Said." Additionally, Tinie Tempah, Katy B, and 2010 Mercury Prize champs the xx have all been named in the Best Contemporary Song category.
The 56th annual Ivor Novello Awards, which recognizes the best of the best in British songwriting, will be presented at London's Grosvenor House on Thursday, May 19. For more on the esteemed ceremony, check out their official site.
In other music news:
• "Glamorous Glue," one of the many swaggering cuts heard on Morrissey's epic 1992 LP, Your Arsenal, receives the deluxe reissue treatment this week. I'm sure most Moz enthusiasts have already shelled out their hard-earned dough for all four versions — the 7″ picture disc single (yes please!) includes the fantastic "Treat Me Like a Human Being" demo. But honestly, the killer cover photo is worth it alone. (Glamorousglue.co.uk)
• Out this week in the U.S. is Last from Northumberland folk group, The Unthanks. Their lovely approach in covering old English folk songs, as well as reinterpreting Tom Waits's "No One Knows I'm Gone" and King Crimson's "Starless" makes for one of the year's most enchanting efforts. And in case you didn't know, their 2008 release, The Bairns, earned the Unthanks a Mercury Prize nomination. Radiohead, Portishead and English author Nick Hornby also count themselves as massive fans.
http://www.youtube.com/watch?v=aSjt3CYYVYM&playnext=1&list=PL81A1FDE060797F65
• McFly frontman Tom Fletcher is getting hitched. The dapper boy band singer recently proposed to his longtime girlfriend Giovanna Falcone. (The Sun)
• The British Armed Forces heart Queen. In a recent poll conducted by the Army's radio station BFBS, the band's 1975 rock opera classic, "Bohemian Rhapsody," was voted the top tune out of 500 others. Snow Patrol's "Chasing Cars" came in second. (The Guardian)
• Visa complications have plagued Mogwai's latest stateside run. (This is Fake DIY)
• A three-disc set featuring a handful of killer remixes of Depeche Mode's 1989 hit, "Personal Jesus," will drop in the U.S. on May 30. Personal Jesus 2011 comes a week ahead of the English synth band's career-spanning Remixes 2: 81-11 collection. (Slicing Up Eyeballs)
• Last but not least, I would love to call attention to the London indie rock foursome Wild Palms. Their 10-song debut, Until Spring, was issued on One Little Indian last week (April 12). Producer Gareth Jones (Depeche Mode, Erasure, Interpol) highlights their post-punk-tinged dramatics perfectly. Check out "Delight In Temptation" for more.
WARNING: Some content is NSFW:
Read More
Filed Under: