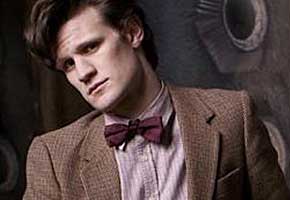 So, in the run up to the new series of Doctor Who, we've had lots of revelations about the new monsters, how there's one that's the scariest Who monster ever, and is based on (and named after) Edvard Munch's painting The Scream. But it turns out that the good Doctor himself, in the guise of his alter-ego Matt Smith, has a far lower fear threshold than these startling adventures would suggest.
In a new interview with London's Metro, Matt was asked if there's anything he's frighted of personally. His answer was immediate: "Spiders – the way they move freaks me out. It's so malevolent. They fascinate me as well."
He continued: "If I see a spider in the flat, I try to get a cup and a piece of paper and throw it out of the window. I can't kill them because they're good for catching flies. Apparently, as a kid I used to eat spiders. Maybe there's some Freudian significance behind that."
Why, did he eat spiders too?
Would you save Matt Smith from a spider, or run to the hills? Tell us here.
Read More
Filed Under: