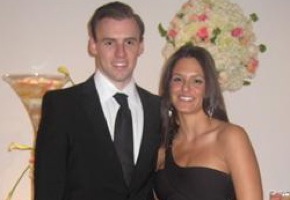 As Kate Middleton kisses Prince William on the balcony of Buckingham Palace, New Yorker Nina Wallin will be watching avidly on TV, while getting ready for her own wedding a few hours later.
"It's fitting that we're getting married on the same day," Nina says. "I'm marrying my Prince Charming, and so is she."
Nina, who's 29 just like the royal bride, is having a classic Fifth Avenue wedding. She and her groom Stanley Morgan Conway will be married at the Presbyterian Church with a reception at the University Club of New York, followed by an after-party.
"I'm sure Kate's got to be nervous, my wedding's a piece of cake compared to hers," says Nina, who's expecting 110 guests compared to the regal 1900.
While Kate's dress is the subject of spiraling speculation, Nina can reveal that she will be wearing a strapless, full-skirted gown with peach underlay, tulle and silk hand-painted fabric complete with flowers.
A cathedral veil will frame Nina's face, and her train will be about 11 feet long. If Kate eschews the 25-foot Princess Diana train, perhaps she and Nina might be wearing the same length, on different sides of the pond…
So will Nina and Stanley's wedding feature any regal touches?
"We're having a royal cake," Nina explains, "as tall as it possibly can be, chocolate with white icing. I'm hoping it will be six feet tall."
She will carry a crescent shaped bouquet of roses, something New York florists told her brides didn't do any more – but Nina has since discovered this is a style favored by royal brides past.
And there's little surprise there. Royal weddings have always influenced wedding styles, says Heather Levine, senior fashion editor for the wedding planning site, TheKnot.com: "Brides look to celebrity and royalty to help them feel more comfortable in their choices."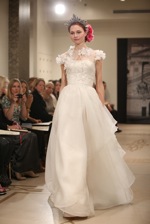 Levine says the royal nuptials have rekindled interest in other accessories besides Nina's bouquet of roses: "We're seeing tiaras when they haven't been present in years – Oscar De La Renta and Reem Acra featured them in their runway collections. We're seeing lots of gowns with covered shoulders and silk lace sleeves. Douglas Hannant designed a gown with a beautiful 12-foot train."
Whatever Kate wears for the wedding itself will drive a whole new set of bridal trends, Levine predicts: "She's a trendsetter. Women trust her style implicitly."
In fact, even though she won't walk down the aisle until next week, Kate is already influencing bridal fashion trends, as designers try to anticipate what her dress might look like. Her penchant for the fascinator, a.k.a. a feathery headpiece, has even now launched a revival in that particular piece of headgear.
As the Kate Middleton effect ripples through the bridal world, her wedding date twin Nina Wallin is pleased with the coincidence. Nina and Stanley's is one of 2,181 weddings registered at Levine's website for April 29, 2011.
While sharing the date with Prince William and Kate Middleton makes your day even more memorable, it does throw up the risk of comparisons.
But Nina's not worried.
"I believe everything happens for a reason," she says happily, before dashing off to a cake tasting.
Read More
Filed Under: