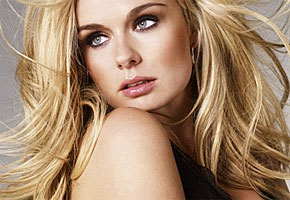 Say what you like about Twitter, but it does at least allow people in the public eye to put right things which have gone wrong, especially hurtful misunderstandings which are largely due to media misrepresentation in the first place.
So when the singer (and Doctor Who star) Katherine Jenkins heard that she had been criticized in a TV documentary about a lady whose face has been drastically scarred by fire, the first thing she did was rush to Twitter, to try and make amends.
In the documentary, part of a series called Katie Piper: My Beautiful Friends, which aired on Channel 4 last night, Emily Savage, the lady in question, was talking about a news story she'd read, in which Katherine was quoted as saying that her good looks make it hard for her to achieve credibility as a singer. She said: "It really annoyed me when Katherine Jenkins came out and said it was very difficult being beautiful because people don't take her seriously."
"Like I am going to feel sorry for Katherine Jenkins. Get over it. Would she prefer to look like me? Does she want to swap lives?"
A horrified Katherine contacted the show's host, Katie Piper, and was put in touch with Emily herself. Over a few tweets (now copied for all to see on the Daily Mail's website.) she explained: "Dear Emily, I was watching Katie: My Beautiful Friends and was distraught to hear you quote me…"
"It's really important to me that you know I would never say that. That came from an interview I gave with a foreign journalist."
"He clearly misunderstood and misquoted me. I would never call myself Beautiful. I hope you believe me. Wishing you all the best x."
To which Emily replied: "Hi, I'm really sorry if it was a misquote. I know these things do happen."
"It wasn't meant be an attack on you personally but illustrate how people complain about silly things."
"I'm really sorry if it caused you embarrassment or distress, that was really not my intention. Good luck with everything and congrats on the engagement."
There, all better now.
Is Twitter the right forum for this sort of thing? Tell us here.
Read More
Filed Under: