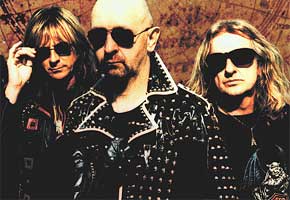 Some heavy metal bands are like a family, where all (or most) of the original members stick together for as long as they can, and when it's time to go their separate ways, the whole thing crumbles like a sugarcube in a hailstorm. Other heavy metal bands are like Dracula, forever feasting on the blood of young initiates, to keep one aged and undead (but surprisingly nimble) being alive and howling.
Judas Priest always seemed to be somewhere in between. Yes they've lost and gained a couple of people along the way, but so long as there was Rob Halford, K.K. Downing, Ian Hill and Glenn Tipton, they were essentially still the same unit that gave us such enduring metal classics as "Breaking The Law" and "Metal Gods."
So it's sad to report that one of that unholy quadrinity has now left the band, after a mere 42 years service. founder member K.K. Downing, who developed that innovative twin-lead-guitar style with his riff-mate Glenn, is retiring.
The band announced his departure on their website, saying: "It is with regret that Judas Priest announce that K.K. Downing has formally retired from the band and will therefore not be joining them on their forthcoming tour. The band respect his decision and naturally wish him well."
Ironically, this tour was originally supposed to be a farewell of sorts. The band had announced they would be hanging up their touring leathers and exist only as a writing and recording unit from now on.
Now the future is less certain, although the tour will go ahead, with the impeccably-pedigreed Richie Faulkner — who plays in the band for Lauren Harris, the daughter of Iron Maiden's Steve Harris — standing in for K.K.
Here's the band doing what they do best:
Devil-horn salutes all round.
A black day for metal? Tell us here.
Read More
Filed Under: