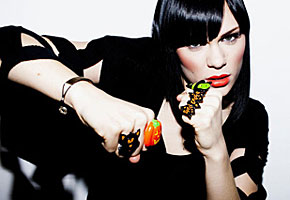 Warning: this story does tend to reinforce a few national stereotypes, which is not the intention, we're just reporting the facts. It also reinforces stereotypes about young people having a party, so let's maybe focus on those instead.
So, here's the setup: young Jessie J, critically approved of, severe-fringe-wearing new pop star, has been booked to perform in front of the students of Dublin's Trinity College Ball. She is hoping for a singalong night of pop fun among Ireland's intellectual elite, so off she goes, checking her fringe with a spirit level before she takes to the stage.
Some hours later, she puts up the following distressed tweets: "Just came off stage at Trinity ball. Probably one of the hardest gigs to date."
"To see so many people so drunk they couldn't even stand. Girls unconscious and [students] literally trampling on each other. It wasn't easy."
After a period of consideration (and no doubt a few snarky replies) she elaborated: "I'm not upset they weren't all listening. It upset me to see so many young people so not with it. I'm not used to it."
"It's hard to sing when I just wanted to go into the crowd and help all the crying girls who were being squashed."
This then lead to a certain amount of bickering from students who felt she had no place to judge their behaviour. One wag (OK, Niall Breslin, the singer with Irish band the Blizzards, who were not there at the time) even posted the comment "Welcome to Ireland."
She replied: "I was just shocked at how intoxicated they were and I was genuinely worried for them. I'm not used to it. That's all."
"And it's not just in Ireland, its everywhere. As a non drinker, I just want to spread the message that binge drinking is dangerous. I just care."
So there we have it, a pop star that wants to warn her fans about the dangers of unhealthy living. Nothing stereotytpical about that.
Is Jessie being nice or naive? Tell us here.
Read More
Filed Under: