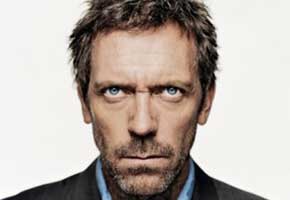 While he portrays one of television's coolest medical professionals — a.k.a. the cantankerous Dr. Gregory House on the Fox hit drama, House — Hugh Laurie apparently entertained the idea of becoming a doctor back in the day.
The 51-year-old English actor and budding blues musician says his decision not to go into medicine remains a "source of great guilt." The two-time Golden Globe winner's father, Ran, was a physician for three decades.
"I would have liked to have become a doctor myself and I still have doctor fantasies," Laurie recently told Britain's Daily Express.
He added: "We live in a world of shortcuts don't we? And I took them. Dad would have hated that. My father had high hopes for me following him into medicine. I wanted to and was going to choose the right subjects at school but in the end I copped out. Medicine is awfully hard work and you have to be rather clever to pass the exams."
Well lucky for us, Laurie chose to channel his creativity through the arts instead of medicine.
Read More
Filed Under: