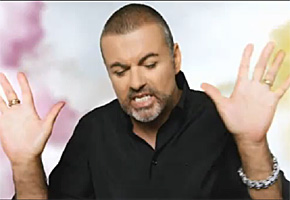 We all have certain regrets in our lives, things we wish we could've done differently. For some it could be a harsh word to a dear friend or relative, to others, an opportunity missed or a trip down the wrong fork in the road. For George Michael, one of his regrets is having been too embarrassed to grant one simple request for the heir to the British throne — Prince William, obv — a song for Christmas.
Talking to his Twitter followers, he explained: "I only ever met him twice, but he was such a nice kid. Actually he asked me to sing!!! He was only eight! It was a Xmas party at Kensington Palace, and believe it or not I'm too shy to sing to small numbers of people…."
"So I said no…..it was excruciating, his little Xmas smile disappeared, but the only people I knew in the room were Diana and Elton! So I bloody said no to the future king of my country…oh the shame."
And he also revealed a novel way of marking the occasion, and making amends for this appalling lapse in royal decorum, by recording a song for William and Kate, and for his Twitter followers too.
He said: "I have been thinking about Will and Kate…. and I'm so happy for William… the whole country is getting ready to party! Let's have our own celebration twitter style….."
"Instead of Song of the Day, let's pick a song I can give to you on here sometime this week. I'll grab my piano player and bob's your uncle*… Wedding gift and bank holiday thank u to my twitter lovelies rolled into one."
"I'll do the vocals at home… Come on boyz n girls…what song should it be? Oh and it can't be one of mine, they are all a bit too sad….no sniggering and agreeing, you at the back!"
"Remember twitterville, this has got to be a romantic, OPTIMISTIC song for two good people. Who happen to be royalty…:)"
So naturally we've been lobbying quite hard for "Surfin' Bird", but so far he's not taken the bait.
*Note: "Bob's your uncle" is a British slang expression, dating from the UK's colonial past, that means "there! Done!" Read all about it at Wikipedia.
What song would you like to hear George offer William and Kate? Tell us here.
Read More
Filed Under: