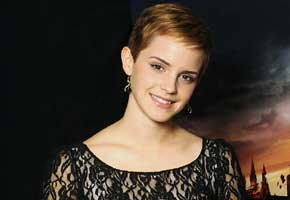 Hermione Granger is all grown up!
Today (April 15), the lovely Emma Watson turns 21! And earlier, the Harry Potter star took to her official site to share her birthday excitement as well as thank her legions of fans for their never-ending love and support.
"Just a quick message to say thank you for all the Birthday wishes and gifts you've sent," Watson wrote. "I'm continually overwhelmed by the support from you all. It means so much to me, so thank you very much."
She added: "Turning 21 is a significant occasion for everyone, and it's proved to be quite a milestone."
The last several months have been especially monumental for the English actress and model. In addition to appearing in the last of the Harry Potter movies, Harry Potter and the Deathly Hallows (part deux opens July 15), she was cast in her first post-Potter role in My Week with Marilyn. The film is currently in post-production and slated to open later this year.
In March, after completing a year at Brown University, Watson announced she was taking sabbatical from her liberal arts studies in order to focus on her career. She's since gone on to land a deal with Lancôme (you go, girl!) and this summer, she'll start work on the 2012 romance drama, The Perks of Being a Wallflower. Lots to celebrate, indeed!
"I can't wait to start work on the film, and look forward to new challenges," Watson said.
Hmmm. Maybe she'll see about making those Broadway dreams come true?
Happy Birthday Emma Watson!
Read More
Filed Under: