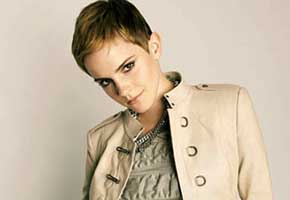 Emma Watson has definitely had her share of experiences in dealing with the wild pandemonium that's attached to the Harry Potter franchise. How about the manic media hoopla that ensued once she chopped off her signature honey blonde tresses last summer? While the English actress isn't marrying a Prince, Watson hopes Kate Middleton is able to relish in some of the craziness surrounding her April 29 nuptials, regardless of the volume.
"Poor girl, that must be an incredible amount of pressure," Watson told The Associated Press. "I hope she's enjoying it. Must be intense."
Miss Emma went on to reveal that she'd like to test her professional chops on Broadway. Maybe Daniel Radcliffe's latest run on the New York City stage has inspired her? Either way, we'd love to see Watson on Broadway! She'd make a good Roxie Hart in Chicago. And she'd surely bring some serious charm to Eliza Doolittle in My Fair Lady.
"It's something that I've always wanted to do," Watson said. "The idea of having a live audience is just really appealing to me. I think that must be an amazing experience."
Would you like to see Emma Watson on Broadway? Tell us here.
Read More
Filed Under: