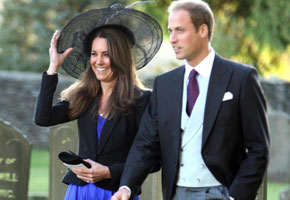 On April 29, Brides Magazine editor-in-chief Millie Martini Bratten will join Royal Wedding Insider from London for live blog coverage of the royal wedding. Today she reflects on this momentous occasion — and why Prince William and Kate Middleton have commanded the world's imagination.
At last, the royal wedding week has arrived! Union Jack flags line the streets of London; guests (and legions of reporters, including me) are descending upon the city. Weather reports are checked daily, with fingers crossed for clear skies on Friday, as details on one of the world's great pageants continue to be revealed.
Like every couple, Kate and William want their wedding to be personal. Thanks to the openness of the palace, they've had those wishes heeded more than any other royal couple before them have. The wedding cake will be covered in flowers, at the direction of Kate; William will have a groom's cake — rare in British weddings — made of his favorite biscuits; the crests of each will be combined to form one, intertwining the royal with the commoner. At the heart of it all, William and Kate share a connection — albeit one that was a long time in the making — that inspires the romantic in all of us.
And so begins a new chapter of the British monarchy, launched by a strong, confident, independent pair who are also well aware of their place on the world stage. Soon we'll stop speculating about the dress, the vows, and who will or won't act up at the wedding, to raise a glass in support of a couple who, like so many before them, are about to begin one of life's most exciting adventures. I can't wait!
– Millie Martini Bratten
Read More
Filed Under: