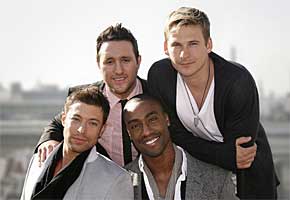 We may not know who is going to win the Eurovision Song Contest on May 14, we might not be sure which songs will rule the evening and which ones will slink away quietly to lick wounds and recuperate, but one thing is for certain, if the UK entry from Blue doesn't do well, at least the band are sure where the problem lies: with radio stations.
According to the radio monitoring site myradio.com, 'I Can' has been played just 22 times over the last month, including Radio 2, which is the country's official Eurovision radio station. And this has not gone unnoticed by the band.
A BBC spokesperson explained: "Radio 2 premiered Blue's Eurovision song on the Graham Norton show and has played the song across the schedule where editorially appropriate. It is not currently on the playlist but it may be considered, on merit, in due course."
Here it is again, just so so they don't get baity with us:
Never mind that Eurovision has never been the kind of thing that broadcasters get into a tizzy about in the lead-up to the event, it's always after we win that the real coverage starts, and never mind that Blue would possibly still struggle to get airplay nowadays even if they weren't in the contest. As far as the lads are concerned, lack of airplay is a sign that their best efforts are not being supported, and that makes them grumpy.
(This despite a BBC TV documentatary called Eurovision: Your Country Needs You in which celebs like Robbie Williams encourage the boys with special messages.)
Blue singer Simon Webbe told the Mirror: "We're trying to do this for our country and our country isn't backing us."
Sure we are! This is how we express support for all of our Eurovision hopefuls, by getting on with our lives and talking about other things. Go team!
Whingers or winners? Tell us here.
Read More
Filed Under: