As preparations for Prince William and Kate Middleton's April 29 wedding  continue, BBC royal correspondent Peter Hunt reveals what's happening behind-the-scenes. (Follow Mr. Hunt on Twitter.)
When an estimated two billion people around the world are tuning in to hear you sing, there's one thing you have to avoid — chocolate. The young choristers performing at the wedding are giving it a wide berth because it can stop their voices from working. They've also been advised to steer clear of cola drinks and cough sweets.
The boys, members of the choir of the Chapel Royal, will be wearing a scarlet and gold uniform that dates from the reign of Charles II. Nine-year-old Tom Fleming says it's "heavy and very hot" and he has to be careful not to "spill anything on it as, if it stains, it's very hard to remove."
And if that isn't stressful enough, the 10 choirboys don't just practice singing.  They've also been practicing standing: they do exercises that consist of simply standing still for up to 10 minutes at a time so they learn to be completely motionless on April 29 without any fidgeting.
They will be rewarded. As 11-year-old Ted Fetherstonhaugh puts it: "We've got to have a backpack of chocolate for after."
Spit and Polish
It's the attention to detail that we, as casual observers, would ordinarily be blissfully unaware of. For example, it can take up to 50 hours to polish each of the pairs of boots that will be worn by the mounted soldiers escorting Prince William and Kate Middleton through London after their marriage.
The boots are waxed with beeswax and a blowtorch is used to force the wax in to harden them; then layers of polish, spit and water are applied to create a "mirror" shine. According to Captain James Hulme, a member of the Household Cavalry Mounted regiment, "There is an element of competition between the men as to how shiny they can get their boots."
The Household Cavalry — its members both serve in Afghanistan and perform ceremonial duties — has been escorting royal newlyweds for 349 years. Those taking part next Friday are praying for dry weather. This is because when they put on their glittering breastplates, shiny jackboots and plumed helmets, they also paint their white pantaloons and gloves with emulsion to make them extra bright.
"If it rains," Captain Hulme says, "the paint will run. We are hoping it will be a wonderful sunny day for the couple."
No Piece of Cake
We will see the results of the Household Cavalry's labors on the day — at the heart, as one of their commanding officers puts it, of the "nation's stateship" — but we won't see the attention that will have been lavished on William and Kate's wedding cake. (Unless, of course, you're one of the many guests who have been invited to the canapé reception at Buckingham Palace.)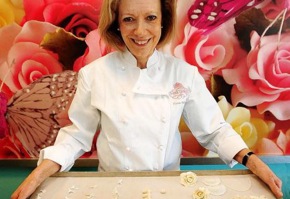 The cake's creator, Fiona Cairns, has been toiling ever since she received the commission two months ago. She's creating a multi-tiered traditional fruitcake.
But that's not all. When Kate Middleton met Fiona she brought with her what the cake designer calls "mood boards" and told the baker what "influences" she would like used on the cake.
So it will feature flowers — the English rose, Scottish thistle, Welsh daffodil and Irish shamrock — and other adornments. It sounds almost too good to eat!
Prince William's tastes appear more straightforward. Post-wedding, he'll be indulging his sweet tooth and tucking in to a chocolate biscuit cake, which is specially made for the royals using a secret recipe.
Everybody Wants to Get Into the Act
In the days and weeks since the engagement was announced, my e-mail inbox has been the recipient of countless messages from those keen to highlight their links to William and Kate, no matter how tenuous that connection might be.
One firm, for example, has predicted that Britons celebrating the wedding will create 4,000 tons of rubbish and use nearly 6 million trash bags. And a pizza chain has translated its menus into 20 different languages, from Polish to Portuguese, to cater to the needs of the tourists they anticipate will come to London for the occasion.
And spare a thought for a zoo in the North of England. Seizing on the media opportunity, Chester Zoo named a pair of Royal Starlings William and Kate. There's only one problem, though. They've just discovered the birds are, in fact, of the same sex. They've now been re-named Billy and Nate.
Read More
Filed Under: