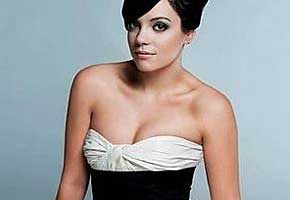 You know us, we love a gossipy news story about a UK celeb as much as anyone. But sometimes you can sense that the people writing the story are trying to create the impression that the thing which has happened is unique to the world of celebrity, even though it's pretty normal, and happens to lots of people in all walks of life.
Take the revelations in More! magazine about Lily Allen's plans for her wedding to Sam Cooper on June 11. Having claimed at first that it would be a low-key, intimate do, it now transpires that she's throwing money around like confetti, having her dress designed by Chanel's Karl Lagerfeld, sending out invites like they were spam emails…all that stuff.
An unnamed source told More!: "I think the wedding dress itself is going to cost a small fortune. And her sisters, Teddy and Sarah, who are bridesmaids, are getting Chanel dresses too. If there was a budget for the wedding, it's been completely blown."
Well, what if it was a really, really big budget, unnamed source? What then?
They went on: "It's gone from a small intimate family do with close friends, to something huge. There are so many people Lily feels she needs to invite. She also wants the champagne to flow and the food to be amazing."
So she wants it to be like… a wedding? C'mon, shock us one more time. Hit us with ANYTHING YOU GOT, SOURCEY…
"Lily is obviously thrilled about marrying Sam. I'd say he's the love of her life and, of course, she'll want the day itself to be perfect. She's staying up all night, writing lists and constantly chopping and changing the seating plans and other details."
You're right, that is something that has never happened in the history of weddings ever. They certainly won't have coined a phrase to describe that kind of wedding hypermania will they? No, because it has only ever happened to Lily Allen.
Bridezilla? Whassat?
Admit it, if you were Lily, you'd do the exact same thing, right? Tell us here.
Read More
Filed Under: