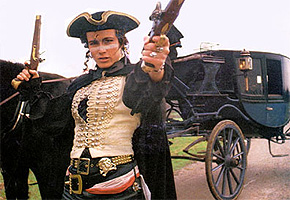 Nowadays, it seems that the best way for former pop stars to get themselves back in the public eye is to make a documentary. That way you can go over what happened to make you famous in the first place, spill a few beans here and there, and essentially re-ignite the flame of interest, in order to light the fuse on your comeback bomb.
And even if you fail in the film, that often makes for a better documentary, so essentially the film will succeed for you, just like it did for Anvil.
So it shouldn't be that much of a surprise to discover that '80s fop Adam Ant is currently making a documentary about his drive to make it all over again. Adam's story is a particularly painful one, as it includes long battles with mental illness, which resulted in a couple of notable (but in no way glamorous) brushes with the law.
The film is being produced by the bass player with those UK rave-indie rapscallions Klaxons. Jamie Reynolds is such a huge Ant fan that he's invested in making the film, despite having no experience whatsoever.
He told the Daily Star: "The Adam Ant project is my first step into the film business. I've got no experience of making films but I really wanted to get involved in it and I may do more."
"I'm helping produce it and will get more involved as it nears completion. Adam is sounding great. I hadn't seen him perform until last week when he announced his first tour and he's back on form,"
As for Adam himself, well he's just pleased to be doing something constructive with what is after all and hugely impressive pop legacy. He said: "Hopefully there'll be more consistency now I'm healthy and out of the contract I signed when I was 21.
"I woke up from 30 years of financial woe and Jamie has invested in the documentary."
Here's Adam in his prime, so you can see what all the fuss is about:
Would you like to see Adam back in action? Tell us here.
Read More
Filed Under: