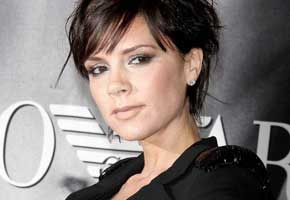 To celebrate the arrival of baby No.4, Victoria Beckham might be going the route of Demi Moore. Remember Moore's controversial August 1991 cover of Vanity Fair, which captured the American film star completely naked at seven months pregnant?
According to The Daily Star, rumor has it that the 36-year-old pop singer-turned-fashion maven might like to do something similar, but for Vogue. Posh has supposedly had some "secret talks" with editor-in-chief Anna Wintour to hash out the details.
"Knowing Victoria, she'll do something completely unique," a source told Britain's Star magazine. "There's a real buzz going around about it."
It's being said that the Beckhams will be adding a girl to their all-boy bunch, — 11-year-old Brooklyn, eight-year-old Romeo and five-year-old Cruz — later this summer.
Read More
Filed Under: