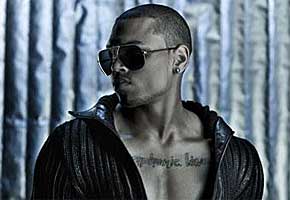 Pray silence, Anglopheniacs, for a momentous pop event has occurred within the last seven days, and we should give it due reverence.
Our Lady of Gaga, the deity who walks among us dispensing astonishing pop music and bizarre chanting in equal measure, has allowed us to bear witness to her latest work, a thinly-veiled photocopy homage to Madonna's "Express Yourself" called "Born This Way." You may already be aware of it.
In fact, Lady Gaga's influence has so overwhelmed the internet and all other pop-loving communities, she has effectively silenced the other interesting thing that is happening in this week's chart, namely the rehabilitation of Chris Brown.
We don't need to go over the events surrounding Brown's fall-from-grace a couple of years back, do we? It remains a fairly hot topic, to this day, and everyone who wants to have their say has probably already had it.
Suffice to say, it's a surprise to see him back in the UK Top 10 at all. Especially given the rampaging success of his former girlfriend Rihanna and "Love the Way You Lie," her still-stunning collaboration with Eminem on the theme of domestic violence.
It would be less of a surprise if he had one unstoppable club banger that just pretended nothing had happened; a freak hit like "Yeah 3x," which has climbed to No.6 after three weeks in the chart; but to be involved in TWO hit records in the same week, well that looks like a proper comeback.
And to put the cherry on the icing on the cake, the other one of those hits — "Champion," his redemptive collaboration with Chipmunk — has actually outsold Lady Gaga. OK, her song came out last Friday and Chipmunk's has been out for a full week, and neither of them has managed to beat Jessie J, who is still at No.1 with "Price Tag," but still.
Here's the video: (WARNING: Some content is NSFW)
Of course, having gone to the Grammys in an egg, it's probable that Gaga will rule all by this time next week, but this won't dent Chris's comeback a tiny bit.
For the rest of this week's chart, Radio 1 has the full rundown.
Can Chris Brown really put the past behind him? Tell us your thoughts.
Read More
Filed Under: