What's trending on Twitter in the UK today? Sally Bercow, wife of a prominent UK politician, reveals some secrets between the sheets while McLaren Racing Limited reveals their new Formula 1 car!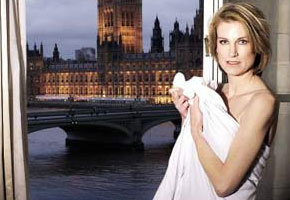 Sally Bercow
Sally Bercow, wife of John Bercow, the Speaker of the House of Commons, appeared in a suggestive photo in the London Evening Standard today as part of a special Valentine's Day feature. The picture feature the 41-year-old in nothing but a bedsheet as she poses in front of a window looking out at Parliament. Bercow says that living in the Palace of Westminster has helped spice things up with her husband. "The view from Speaker's House is incredibly sexy, particularly at night with the moon and the glow from the old gas lamps. When John and I were first courting we used to walk along the South Bank and look at the Houses of Parliament. I never realized how sexy I would find living under Big Ben with the bells chiming." Bercow, who is famous for her gaffes, has called the reaction a "storm in a bedsheet" and that "it was meant to be a bit of fun for Valentine's Day."
@wallaceme: Sally Bercow says the bedsheet photo made her look "an idiot" – thus proving the adage that the camera never lies.
@Freudenschade: Most telling thing about Sally Bercow 'storm in a bedsheet' isn't that she looks silly, it's people saying "Can't Speaker control his wife?"
@rogerodonnell: Next in the Sally Bercow family wrapped in bed linen is John posing wrapped in a pillow case ahh so cute…
McLaren
British Formula One team McLaren Racing Limited unveiled their new car, the MP4-26, in Berlin today. The car was assembled in public view, with pieces of the vehicle carried through the cheering crowd. McLaren team member and 2009 World Drivers' Champion Jenson Button said of the car, "This is our new baby, the car we hope will take one of us to the drivers' championship and the team to win the constructors'. It's beautiful." The car, which features innovative new body work to make it more aerodynamic, will hit the track for the first time next month in Bahrain.
@TheFifthDriver: Want to take the new MP4-26 for a test drive? http://tinyurl.com/689xakj
@ndy_hone_snapa: New McLaren is a very pretty car :O
@F1NewsTweets: McLaren aim for 2010 downforce level on new car | 2011 F1 season http://dlvr.it/FpQxl #f1
David Molofsky is the writer of the blog, A Place To Hang Your Cape.
Read More
Filed Under: