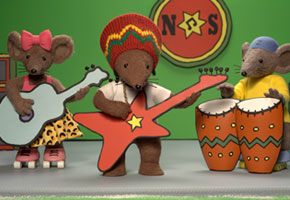 What's trending on Twitter in the UK today? CBeebies premieres its new show Rastamouse, and the Molson Coors beer company adds Doom Bar, a brand popular in London, to its roster.
Rastamouse
Everyone seems to be talking about the new CBeebies show Rastamouse, which premiered on Monday. Based on the book series by Genevieve Webster and Michael De Souza, the show tells the story of Rastamouse and his friends Scratchy and Zoomer as they solve crimes. The mice speak with Caribbean accents, play in a reggae band, and, of course, have a fondness for cheese.
@callmeyashawtyy: Rastamouse is toooooooooooooo funny
@NathanCaton: Rastamouse is trending… Dat plan dere sound wicked!
@KeeveBC: RastaMouse is actually amazing. "We gonna spin nuff ruff riddims!"
Molson Coors
The big news in the beer world today is Molson Coors purchase of Sharp's Brewery, famous for its Doom Bar brand beer, which has become one of the most popular cask brands in the Greater London area. The £20 million ($32.3 million) deal is a big move for the North America-based company and will certainly add to its diverse portfolio. Nick Baker, Sharp's managing director, is very optimistic about the deal, saying, "It was important to us to know how Molson Coors will manage Sharp's and its plan to invest in developing the brewery and the Doom Bar brand is spot on." However, the response on Twitter has been mixed.
@CAMRA_Official: Molson Coors have purchased Sharps Brewery for a reported £20m. Good news? Bad omen? What do you think? #camra #realale #pubs
@realcornwalltv: American brewery Molson Coors buys Sharp's the acclaimed Cornish ale brewer. Is it all Doom Bar & gloom? http://bit.ly/hjLTxH
@beerstyles: @ukpubs yeah, can't believe this. Molson Coors owning Sharp's and their cask ale brands…a marriage made in hell? I think it likely.
David Molofsky is the writer of the blog, A Place To Hang Your Cape.
Read More
Filed Under: