What's trending on Twitter in the UK today? Writer Deborah Orr makes a major gaffe, two sad tragedies dominate the news, and Yugoslavian-born British footballer Shefki Kuqi moves to Newcastle United.
Deborah Orr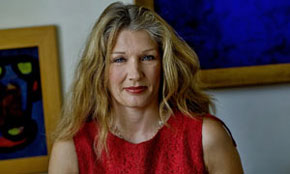 Guardian journalist Deborah Orr is getting a lot of attention for several articles she published today — see here and here — but one in particular seems to have the Twitter community in an uproar.
While comparing American comedian Tina Fey to British comedian Lauren Laverne, Orr mentioned a sketch from Laverne's new comedy news show, 10 O'Clock Live. In the middle of last week's episode, the teleprompter broke, leaving Laverne and co-host Charlie Brooker to fumble around for a hard copy of the script. Orr criticized the show for its ineptitude and called the bit "excruciating." However, the segment in question was the only part of that evening's episode that was pre-recorded, a fact that many in the Twitter community have pointed to as evidence that Orr was reviewing a program she hadn't actually watched.
Some tweets about the incident:
@charltonbrooker: I see Deborah Orr in The Guardian is either a) easily fooled or b) writing about something she hasn't seen.
@grahamruthven: oh look! deborah orr is trendng because of her unbelievable error in today's guardian! how could professional tv writer think that was real?
Trevor Bailey
Former Essex cricketer Trevor Bailey died in a house fire earlier this morning. Bailey, 87, was known for being a great all-rounder (good at both batting and bowling) for the Essex county team and later became a BBC Match Test Special commentator. He will be missed by many fans.
@SkySports_Simon: Very sad to hear the news that Trevor Bailey – England, Essex all-rounder & TMS commentator has been killed in a house fire at the age of 87
@Coalporter: RIP Trevor "Barnacle" Bailey: finally out for 87. It was a fine innings.
@geoffrodgers: So sorry to hear of the passing of legendary cricket commentator Trevor Bailey. Another childhood memory of listening to TMS from Oz gone.
Cork Airport
A small aircraft crashed at Cork Airport in Ireland today on its way from Belfast. Six of the passengers died in the crash, with four more seriously injured. The crash is believed to have been caused by the heavy fog surrounding the airport.
@sammymcgoff: @Labrinthda1st please RT 6 killed and 6 injured when plane crashed at Cork airport prayers are with their families
@corinbishop: so sorry to hear about the plane crash at Cork Airport. 6 dead, 6 injured. So sad. Thoughts with the families.
Shefki Kuqi
Newcastle United have just signed striker Shefki Kuqi in a deal that will keep Kuqi on the team for the rest of the season. Kuqi, who earned himself the nickname "Flying Finn" while playing for the Finland national football team, is the first new player to be recruited to the team since Andy Carroll's departure last week. Manager Alan Perdew has said that Kuqi is "match-fit and knows the English game well having been in the country for the best part of ten years. He is ready straight away and that's what we wanted. Shefki is a good, honest pro who will give us a strong physical presence from the bench."
@thehillsalive: #shefki kuqi bring ON the flying!
@rikerdy: #Nufc replaced Andy Carroll with Shefki Kuqi bet their fans are breathing a sigh of relief
@leekevinsmith: @Benno1987 2 – Shefki Kuqi has scored only two goals in his last 27 Premier League appearances.
David Molofsky is the writer of the blog, A Place To Hang Your Cape.
Read More
Filed Under: