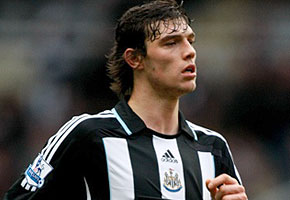 What's trending on Twitter in the UK today? Andy Carroll leaves Newcastle for a record fee while Harry Styles turns 17!
Andy Carroll
Striker Andy Carroll is now one of the most expensive British soccer players in history, having just moved from the Newcastle football team to Liverpool for a reported £35 million ($56.5 million). Carroll has been one of Newcastle's star players since joining the team in 2005. While the loss of Carroll has significantly weakened the Newcastle team, manager Alan Perdew has stated that the money from the transfer will be used to attract new talent: "The one thing I said to [Newcastle United owner] Mike [Ashley] yesterday was, 'Look, if this boy is going to go, this money has to be reinvested in the team, all of it', and he has assured me of that. For the Newcastle fan, that is the most important message I can give today, that all that money will be used." While Carroll will be hard to replace in Newcastle, many are confident that he will flourish in Liverpool.
@talkSPORTDrive: Adrian's done a rant – why £35m for Andy Carroll is a bargain. Read it here: http://tiny.cc/a2vh9 #Liverpool #Newcastle #lfc #nufc
@achrisevans: For the price of Andy Carroll, you could buy three GTO's. My point precisely. Tried and tested pedigree since 1963. And they look good in red
@jakehumphreyf1: This sums up the madness. Andy Carroll, 7th most expensive player ever in world football. Night. #bbcfootball
A bit of Andy Carroll in action:
http://www.youtube.com/watch?v=E_kanJ5Qqac
#happybirthdayharry
Today is One Direction member Harry Styles' 17th birthday! Lots of fans of the former X Factor contestant are sending their birthday wishes. Styles had been meeting with producers in L.A. this past week to discuss the band's upcoming debut album. With the first single due in just under six weeks, this looks like it will be a great year for the teenage star!
@onedirection: Happy Birthday Harry! Send your birthday wishes to @Harry_Styles with #happybirthdayharry
@HStyles_NOM: @Harry_Styles #happybirthdayharry #babystyles ;D we love you!
One Direction singing Coldplay's "Viva La Vida" on X Factor:
David Molofsky is the writer of the blog, A Place To Hang Your Cape.
Read More
Filed Under: