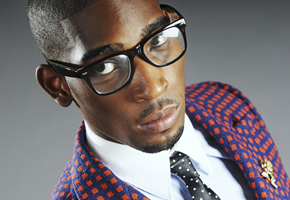 We hailed Tinie Tempah as one of our Top 10 British Breakout Acts of 2010, but it seems like the London-born rapper's name is finally start to seep into the American consciousness. He's just one of the many UK acts (Duran Duran, The Chemical Brothers, Hurts) playing Coachella this spring. Jay-Z loves him and his mega-hot remix of Willow Smith's "Whip My Hair" has created some buzz. Now, Wrestlemania is sizing up Tempah's unquestionable awesomeness. Say what?
The Sun reports that Tempah's UK hit "Written In the Stars" has been picked as "one of the official songs" for Wrestlemania XXVII a.k.a "The Superbowl of Wrestling." Tinie and wrestling? A match made in ringside heaven? This is ker-razy!
"This could be massive for Tinie," said a source. "It could catapult him into the mainstream pretty much overnight. It will only take a few thousand people to like the song and download it to kickstart a wave of interest in him and his music over there."
The annual event, which is scheduled for April 3 in Atlanta, will certainly draw in millions of wrestling fanatics "from more than 100 countries" via Pay-Per-View. An estimated 72,000 people are expected gather around the ring at the Georgia Dome to witness the mayhem live. No one will be able to escape the Tempah!
"Written in the Stars" featuring Street Fighting Man singer Eric Turner:
In other Tinie Tempah news, the rapper was name-dropped during the "Freestylin' with the Roots" segment on Late Night with Jimmy Fallon on Monday night (January 31). At the 16:38 mark, Jimmy Fallon asks a woman in the audience named Michaela who she thinks should perform during this Sunday's (February 6) Super Bowl half-time show. She seems a little nervous as she suggests Tinie Tempah and then, of course, Fallon switches into his best English accent. The Roots' boy-band homage to Tinie and Super Bowl XLV soon follows and it's quite comical. Check it out:
Read More
Filed Under: