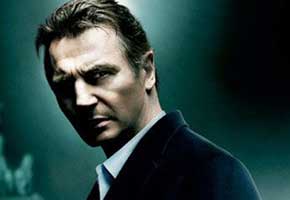 In this week's Tellyvangelist — your weekly guide to all that's British on U.S. TV — get to know Liam Neeson and catch a slew of British stars going yellow in The Simpsons.
All times are in EST and are subject to change.
Monday, February 14
His next two films may only feature his voice, but you can see Sir Michael Caine make a live appearance on Live! With Regis and Kelly today to talk about his recent turn to animation. You can hear Caine's famous Cockney accent in either the recently released Gnomeo & Juliet or in this summer's animated sequel, Cars 2.
Tuesday, February 15
In what is his first of several TV appearances this week, Irish actor Liam Neeson will be on The Tonight Show with Jay Leno to tell us all we need to know about his new film, Unknown.
Pop singer-turned-fashion designer Victoria Beckham will visit Late Night with Jimmy Fallon to reveal the truth behind the rumors that she will pose nude (and pregnant) for Vogue.
Wednesday, February 16
Tune in to see Liam Neeson on both The Ellen DeGeneres Show and Lopez Tonight to leave nothing Unknown about his latest film.
The brand new series Criminal Minds: Suspect Behavior premieres at 10 pm on CBS, featuring Welsh-born actor Matthew Ryan as the suave Mick Rawson. Watch Ryan in this clip from the original Criminal Minds.
Thursday, February 17
See Daniel Craig as a successful drug dealer who gets caught up with some of the worst gangsters London has to offer in Matthew Vaughn's Layer Cake on IFC at 8 pm.
Friday, February 18
Feeling the need for some more Liam Neeson action before you see Unknown? Watch him take on all of Paris as a CIA agent searching for his daughter in Taken on HBOSGe at 5:45 pm.
Saturday, February 19
One James Bond movie just not enough? What about two? Daniel Craig stars as the superspy in both Casino Royale on USA at 2 pm and Quantum of Solace on SHOe at 4:30 pm.
Sunday, February 20
Ricky Gervais, Russell Brand, and Nick Park will be guest starring on tonight's episode of The Simpsons. Gervais and Brand will play themselves, with Gervais hosting an award show in a spoof of his recent turn hosting last month's Golden Globes. Rumor has it that Park's Wallace & Gromit could make an appearance as well.
What are you watching this week?
David Molofsky is the writer of the blog, A Place To Hang Your Cape.
Read More
Filed Under: