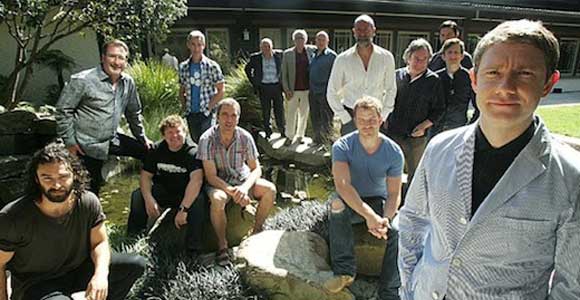 Woo hoo! BBC News reports that select cast members of The Hobbit gathered for a press conference on Friday (February 11). And whaddya think about the new cast shot above? Being Human's Aidan Turner is looking fab with that beard, isn't he?
Filming for the Lord of the Rings prequel was originally scheduled to get underway on Valentine's Day (February 14). But in late January, director Peter Jackson fell ill with a stomach ulcer and subsequently had to have surgery. It was announced last Monday (February 7) that work would resume on March 21.
And while Jackson was unable to participate in today's presser due to being "under a medical form of house arrest," UK actors like Martin Freeman (Bilbo Baggins) and Robert Kazinsky (Fili) chatted about what's coming up next.
Read More
Filed Under: