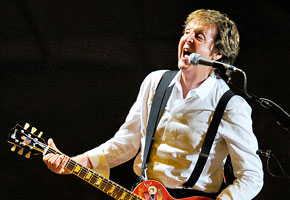 When it comes to music, we all know by now that Sir Paul McCartney has experimented beyond the sphere of rock 'n' roll.
He embraced his ambient electronic side for three albums with Killing Joke's Youth under The Fireman moniker. Macca also gave his blessing to Love, Cirque du Soleil's theatrical homage to The Beatles, which opened in 2006. Now, he has his eye on the ballet.
According to The Sun, Macca has spent the last year composing a ballet score. The original work will allegedly be "choreographed by the best in the business and turned into a big New York production." It's expected to come to Britain as well.
"I have been working on a ballet for a while," McCartney said. "I'll be making a proper announcement in a few weeks. It's a really exciting project for me."
On Sunday (February 13), McCartney picked up a Grammy for Best Solo Rock Vocal Performance for "Helter Skelter," as heard on his 2009 live effort, Good Evening New York City.
Read More
Filed Under: