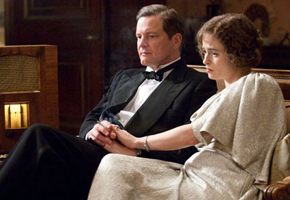 The King's Speech, which has made over $100 million at the domestic box office, is ready to bring in the big dough. Not only did the British period drama scoop up four Oscars last night (February 27), including the coveted Best Picture trophy, but the R-rated film won a PG-13 edit that will broaden its audiences to families and schoolchildren.
In a head-scratcher, the film's adult rating is owed to scenes in which Lionel Logue (Geoffrey Rush) encourages King George VI (Colin Firth) to express his frustrations through rampant dropping of the F-bomb.  "[T]he Motion Picture Association of America (MPAA) was willing to give the film a PG-13 rating if the audio of the swearing was dipped," BBC News reports.
Director Tom Hooper, who won Best Director last night, is pleased with the lower rating: "Unselfishly, I think if it brings the film to that younger audience it will be great because in the UK and Canada I've had a lot e-mails from eight and nine-year-olds who have been incredibly affected by it — so why would I want to limit it?"
However, The King's Speech's Oscar-winning star, Colin Firth, disagrees, telling The Hollywood Reporter, "I don't support it. I think the film has its integrity as it stands.
"I'm not someone who's casual about that kind of language. I take my children to football games. I hate hearing that kind of language in their ears, but I won't deny them the experience of a live game.
"But in the context of the film, it couldn't be more edifying, more appropriate. It's not vicious or insulting. It's not in the context that might offend."
Should The King's Speech receive a PG-13 edit or should it be left alone?
Read More
Filed Under: