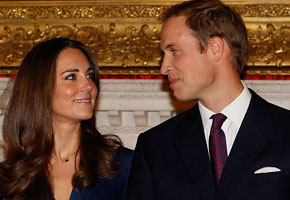 The Daily Independent's Talbot Church dishes much royal news in today's column. Since getting engaged in November, Prince William and Kate Middleton have mostly stayed away from the spotlight as a couple. However, royal publicists have decided to have them appear on the British version of Comic Relief on March 18.
Known as "Red Nose Day" (as in clowns wear red noses), the telethon is broadcast on the BBC and raises money for charities in the UK and Africa. "Kate's very much a charity person," a senior courtier says. "She relishes the chance to show the caring side of her which the public has yet to see."
In other royal news:
– Today's installment in they're-really-a-modest-couple comes from The Daily Mirror. The tabloid reports that, instead of having a major star sing during the Westminster Abbey ceremony, Kate and William will stick with traditional church music."They do not want the day to turn into a performing circus," says a palace source. "They want it to be intimate and traditional." Yup, just an intimate wedding in the ninth-longest church in the world, before an audience of 5,000, broadcast worldwide.
– The royal wedding will be flat, or at least it won't be in 3-D, Bloomberg reports. British Sky Broadcasting and the BBC were negotiating with the royal family about shooting the Westminster Abbey ceremony in 3-D, which would have seen wedding watchers heading to their local movie theater to view the royal nuptials. But the royal family rejected the proposal, in part because of the additional cameras it would require. Undeterred, Sky Broadcasting says other aspects of the wedding may be shot in 3-D.
– If resolve is a test of a couple's durability, then Katie Sage and Jack Weir will do just fine. Before William and Kate announced April 29 as their wedding date, the couple — who reside in Yeovil, about 130 miles southeast of London — had chosen it as their special day, reports The BBC. Radiating the kind of self-assurance only a bride-to-be can muster, Sage says, "We had ours booked and planned really so we can't really go back on them now so we are going to be doing our own thing."
– Dame Helen Mirren is an admirer of Kate Middleton. "I love where [Kate] comes from and who she is," Mirren told The Daily Telegraph. "It takes a very special person to step into that world." The 65-year-old English actress won the Best Actress Oscar for her portrayal of Queen Elizabeth in The Queen in 2007, and come to find out, her great-grandfather was butcher to Queen Victoria.
– As if there wasn't enough pressure on William and Kate, the Church of England is hoping the royal nuptials revive interest in church marriages. BBC News reports that fewer couples are walking down the aisle than ever. Commentators are split on whether the royal wedding will cause a spike in I do's. Professor Roger Trigg, a director at the Centre for the Study of Religion in Public Life, says, "Marriage is a serious commitment and I think it's very important that the royal service has a sense of that seriousness. It's also taking place in a church — they're being married in the sight of God — and that has real significance." But the Reverend Professor David Thompson thinks the royal opulence could backfire, setting a standard other couples know they cannot reach. "[A]ll the pomp and ceremony could actually be counter-productive," Thompson says.
– Quick: Which Pacific island has more people, Kiribati or Nauru? When your future husband will be head of state of 54 nations someday, it helps to know foreign policy. According to Britain's Daily Express, Sir David Manning has been appointed as Kate Middleton's foreign affairs mentor. Manning certainly has the right credentials for the job, too. He was the UK Ambassador to the U.S. and Israel, and was a top foreign policy adviser to former British Prime Minister Tony Blair. He has also acted as a foreign policy tutor to William and his younger brother, Prince Harry. By the way, Kiribati has a population of about 99,000, and Nauru, 14,000. But you knew that.
Read More
Filed Under: